Biodiversity, biodiversity in india, health of ecosystems, climate and biodiversity, drops in biodiversity, genetic diveristy, etymology, threats and conservation, endangered species india, biome india, ecology india, hotspots of biodiversity in india, threats to biodiversity in india, biodiversity conservation in india,
TABLE OF CONTENTS
1. BIODIVERSITY TERMS
2. SPECIES DIVERSITY
3. ECOSYSTEM DIVERSITY
4. GENETIC DIVERSITY
5. DISTRIBUTION OF BIODIVERSITY
6. LATITUDNAL GRADIENTS
7. HOT SPOTS
---
LATEST NEWS AND VIEWS ON BIODIVERSITY
* India business Biodiversity Initiative A video
* Rave parties wrecking GOA biodiversity
* National Biodiversity Authority Recruitment 2014 Apply for Technical Officer
* Download book on Biodiversity in India
* Kanha National Park wins India-UNDP Biodiversity Award
The Kanha National Park situated in Mandla has won the India-UNDP Biodiversity Award for biodiversity conservation.
* Overfishing biodiversity and consequences
Like its rich terrestrial biodiversity, India is equally rich in marine biodiversity. India's coastline is more than 7,500km in length and extends to a total area of about 2, 81,600 sq km. It harbours unique habitats and a plethora of marine species. Despite logistic constraints in explorations and collection of specimen; the number of species known from the Indian coastline is more than 13,000.

The Indian coastal water harbours 451 species of sponges, more than 200 species of corals, more than 2900 species of crustacean, 3370 species of marine mollusks, more than 200 species of bryozoans, 765 species of echinoderm, 47 species of tunicates, more than 1300 marine fishes, 26 species of sea snakes, 5 species of sea turtles and 30 species of marine mammals including dugong, dolphins, whales, etc. In addition a wide variety of sea birds can be observed around the coast.

But unfortunately, habitat and biodiversity loss due to bottom trawling, overfishing, use of small sized mesh nets, juvenile fishery etc. are wrecking havoc on marine biodiversity of India. About 72 per cent of total production of marine fish in India, lands at the West Coast. Kerala is the biggest producer followed by Maharashtra, Karnataka, Gujarat, Goa, Daman and Diu.

Kerala has a long coastal line of 590 km on the western side of the state hugging the Arabian Sea. The marine, brackish and freshwater fisheries are important for the state's economy. For a biologist, the Ramsar convention wetlands, mangrove forests and marine biodiversity of Kerala serve as a natural laboratory.

Massive turnover
The domestic turnover in fishery sector is about Rs 6,000 crore and provides livelihood for 1.7 million people in Kerala. Foreign exchange turnover of the state through the export of marine product accounts for more than 20 per cent of the total marine export earnings of the country. At the same time crores of rupees are lost due to large scale fish massacre in the Arabian Sea. More than 100s of tons of small fishes are drained daily from the sea using small mesh nests and sent to the factories in Mangalore. There it is dried and powdered to make organic manure and fish feed. Fishmeal from Mangalore reaches Japan via Colombo in 20 to 25 days.

A large net called trawl is towed along the sea bottom by one or more boats, called trawlers or draggers. Bottom trawling results in a lot of by-catch and can damage the sea floor. A single pass along the seafloor can remove 5 per cent to 25 per cent of the seabed life. From the Munambum harbour of kerala itself more than 40 tones of small fishes are harvested like this. This will make the sea barren and lead to severe shortage of fishes.
The fingerlings of leather jacket fishes are mostly captured.
Besides crabs, prawns, lobsters and squids; the young ones of Sardine, Mackerel, Threadfin Bream, and Milk Fish etc. too get entangled in the small mesh nests. Along with this so many other inedible biota too are captured. This in turn completely smashes up the marine ecosystem.

These small fishes are sold just for Rs10 per kilogram. There is large scale removal of fingerlings from Beypore, Neendakara, and Shakthikulangara harbours. The leather jacket which grows up to 2.5 kg has a market value of Rs 150 per kg. It has good demand abroad and has an export value of 6 dollars. Thousands of tons of leather jackets below 25 gm weight are drained from the sea in the past one month in these areas. Fishes which can grow hundred fold weights and yield good foreign money is being crushed and made manure and fish feed. more..
Manmohan Singh destroying biodiversity!?
India's Prime Minister's approval of GM food and Environment Minister Moily's disregard for rules, illegally permitting open field trials of 120 food crops will destroy India at the genetic level, namely its biodiversity. In an election year Manmohan Singh is leaving behind a scorched India.
India's Prime Minister's approval of GM food and Environment Minister Moily's disregard for rules, illegally permitting open field trials of 120 food crops will destroy India at the genetic level, namely its biodiversity. In an election year Manmohan Singh is leaving behind a scorched India. A blind, deaf, dumb and bigoted Prime Minster said 'the government should not succumb to unscientific prejudices against GE seeds and foods.' [1]
Manmohan Singh said,
'use of biotechnology has great potential to improve yields.' [2]
Actually this unscientific, prejudiced and utterly spineless PM backed a failed technology. Behind his rise to infamy and many treasonous acts since 1991 is conspiring with theUS Government and the European Globalists who want to cull the global population to about 1 billion, not even sparing their own people. His desperate effort to release GMO food crops will turn India into a dead land with sterile population within a few decades.
While Manmohan Singh will go down in history as the most treacherous man that ever occupied the position of Prime Minister, his Agriculture Minister Sharad Pawar and the Environment Minister Veerappa Moily will disgrace historiography provided historians survive.
There is nothing 'unscientific' or 'prejudiced' when people oppose genetically engineered [GE or GMO] seeds and foods. The opposition is grounded in solid verifiable science. As early as 2003, when the first ever Bt cotton crop was harvested in Andhra Pradesh and Maharashtra, Gene Campaign evaluated the performance of Bt Cotton. [3] These studies proved that GE seeds don't increase yield. Either Singh does not understand science or can't read; he only follows US and NATO orders like their puppets in 30 other countries.
The Impleadment to ban GMOs was backed by 6.5 million farmers through their respective associations. It was admitted by the Supreme Court in April 2007 and contains a long list of hard scientific evidences. [4]
Members of the Technical Experts' Committee [TEC] appointed by the Supreme Court to assess the biosafety of GMOs concluded that GE seeds should not be allowed in India. The sole dissenting voice in TEC was of Government imposed scientist CD Mayee. Dr CD Mayee is an industry lobbyist and has the dubious distinction of actually knowing well in advance that Bt Cotton crop would never match the yields of non-Bt organic or non-Bt inorganic cotton. This industry lobbyist became a key member of the approvals' committee and squirmed his way into the TEC. His was the only dissenting note! This man is a disgrace to science.
Cutting across party lines the Standing Committee on Agriculture in Parliament unanimously and unequivocally concluded that GE seeds and foods are dangerous to human, animal and environmental health and directed the Government of Manmohan Singh to ban GMOs. The 400-page report was submitted to Parliament in October 2012. [5]
Perhaps Manmohan Singh reads only unscientific and prejudiced reports of agriculture biotechnology lobbyists headed by Sharad Pawar on behalf of Monsanto and other multinational corporations like Dow, Syngenta, Bayer, etc al. Even Satan would be ashamed of Pawar, India's 'perpetual' Minister for Agriculture. Time is ripe that his kin and he be consigned to the dust bin of history for ushering a dreadful historical period in Indian agriculture.
Four UPA rogues – PM Manmohan Singh, Montek Singh Ahluwalia, Sharad Pawar and now Moily – have destroyed India's farmers and agriculture system, paving the way for Western multinational corporations to take over India's farmlands. To these rogues' list one more name should be added – Raghuram Rajan – the present Governor of the Reserve Bank of India, chosen for his proximity to global banksters. He is the first Governor who ever said that 'farmers drag the economic growth rate down.' What does Raghuram eat for breakfast? Genetically engineered Kellogg's cornflakes in pus laced American milk? Or, reconstituted foods from the advanced labs of global food companies that often contain sanitized and reconstituted human and animal shit? Does he even know that he is presiding over a central bank that can suck the life of 8,000 years of agriculture and food history?
A short history of what happened
GMO foods already here: India never approved the sale of GMO food crop seeds but as early as 2001 an independent food testing laboratory confirmed that 21 out of 30 samples sent from Delhi's grocery stores had tested positive for GMO contamination. The desultory tentative moves by the Supreme Court, from 2005 to now, have already ensured poisoning of India's food. In fact, the Standing Committee on Agriculture in Parliament under the Chairmanship of Basudev Bhattacharya, MP, did a far better job than any expert in the Ministry of Agriculture and Department of Biotechnology. Foods exported by the American and European companies are on Indian grocery shelves, and, given the evidences, contaminated and poisonous. Oil from cotton seeds is used as food and feed; Bt cotton seeds have already entered our food/feed chain.
Food and Nutrition Security [FNS]: It is also important to note that years ago the Supreme Court appointed NC Saxena and Harsh Mander as Commissioners to report on the progress of various state governments' performance on Food and Nutrition Security [FNS] issue following a Public Interest Litigation filed in 2001. Not once have Saxena or Mander mentioned in their reports to the Supreme Court that food and nutrition security of India will be utterly compromised by GMOs of criminal multinational corporations. more...
Hershey violates biodiversity law of india
The Hershey Co. is in a dispute with officials in India over whether Hershey's subsidiary there is violating environmental laws.According to Indian news reports, a magistrate issued an order last month summoning five Hershey executives to an April hearing on alleged violations of the country's biodiversity law.It is the first such case involving a foreign-owned company, said the Business Standard, an Indian newspaper.
The dispute centers on "common food commodities such as mangoes and soy," Hershey spokesman Jeff Beckman said.Despite the media reports, Hershey has yet to have any legal complaint served, either to the company or its officials, he said. India's Biodiversity Act requires companies using "any biological resource occurring in India" in their products to obtain prior approval from a national biodiversity board.The law also authorizes fees on "accessing or collecting any biological resource for commercial purposes."
"We are currently talking with local government officials in India about the applicability of the Biological Diversity Act" to "the common commodity ingredients that Hershey uses," Beckman said via email.Hershey's subsidiary, named Hershey India, operates two domestic manufacturing plants, one in the central Indian state of Madhya Pradesh.The Madhya Pradesh Biodiversity Board filed a court petition after sending Hershey India multiple violation notices, the Business Standard and the Times of India reported. more..
Three sites in Maharashtra to be developed as Ecotourism spots
Thane Creek, Ansure Creek and Velas-Dabhol coast in Ratnagiri district—all in Maharashtra—will be developed as biodiversity and ecologically-important coastal and marine areas through an improved management programme with the help of German-based Gesellschaft fur Internationale Zusammenarbeit (GIZ). The sites will be opened up for Ecotourism.

"The international agency has set aside around Rs 80 crore for sustainable management of eight coastal and marine protected areas through a five-year project in the country. The sites in Maharashtra will get maximum share," said wildlife wing officials.

The technical assistance is part of the project, 'Conservation and Sustainable Management of Existing and Potential Coastal and Marine Protected Areas, India (CSM-CMPA)'. The first phase of the five-year project is up to July 2017, and has the support from the Ministry of Environment and Forests (MoEF), Government of India, German Federal Ministry for Environment, Nature Conservation and Nuclear Safety and GIZ office in India, Vijay Pinjarkar reported in The Times of India. more..
---
National biodiversity garden to come up in Munnar
A national biodiversity garden, exhibiting rare flora and fauna of Western Ghats, will soon come up in the hill station of Munnar, a busy tourist centre located in Idukki district.

The Kerala State Biodiversity Board has drawn up the plan to set up a 200-acre garden and a traditional knowledge centre at the hill town to conserve the rich biodiversity of the region and create an awareness about them among common people. more..
---
Making people know value of biodiversity biggest challenge: National Biodiversity Authority chairman
Balakrishna Pisupati is the chairman of National Biodiversity Authority (NBA), which was established in 2003 to implement India's Biological Diversity Act (2002). NBA is an autonomous body under the MoEF that performs facilitative, regulatory and advisory function for the government on issue of conservation, sustainable use of biological resource and fair equitable sharing of benefits of use. Balakrishna was in the city on Friday to inaugurate 23rd conference on Indian Association for Angiosperm Taxonomy & national seminar on 'Recent advances in plant taxonomy research' by Nagpur University botany department.Courtesy: TOI Excerpts of the interview...
Q: It has been a decade NBA was established, what progress has it made and what are the challenges?
A: We have been trying to make biodiversity conservation a people-centred movement. It has to be owned by different NGOs, ministries, institutes, departments and stakeholders to be successful. How do we take this message to the groups to make them know value of biodiversity is one of the biggest challenges? We are losing biodiversity because we don't know its value. For this, we organized 170 awareness programmes in last 10 months not only for villagers but banks, patent office, ministries and CSIR.
Q: But at grass roots level not many know what the movement is?
A: At grass roots level, we will have to do capacity-building of stakeholders and sensitizing them about opportunities like value, potential and its protection. We are empowering people by giving financial and technical support to biodiversity management committees (BMCs) to prepare people's biodiversity registers (PBRs), which will have information about the details of access to biological resources and traditional knowledge granted, details of the collection fee imposed and details of the benefits derived and mode of their sharing. It is being done through 33,000 BMCs in the country.more...
---
Variation in land-use intensity leads to higher biodiversity
If grassland is managed intensively, biodiversity typically declines. A new study led by Bernese plant ecologists shows that it is rare species that suffer the most. These negative effects could be reduced, if farmers varied the intensity of their land use between years.
Globally, the intensification of agricultural land use is considered the leading threat to biodiversity. Previous studies on the impacts of land-use intensity on biodiversity have only looked at single or small groups of organisms. However, individual species can vary greatly in how they respond to different land uses, meaning that the overall impact on biodiversity is often not clear.
A research study, published in the Proceedings of the National Academy of Science(PNAS), led by the Professors Eric Allan and Markus Fischer at the University of Bern, shows that farmers can help protect grassland biodiversity by varying management intensity over time. This reduces some of the negative effects of intensive land use, particularly for rare species.more..
---
Tamil Nadu lagging behind in management of biodiversity: NBA
Tamil Nadu, home to several rareflora and fauna, is lagging behind many other states in implementing the National Biological Diversity Act, 2002, according to data released by the National Biodiversity Authority (NBA), an autonomous statutory body.

Under the Act, the NBA coordinates the conservation activities across the country, primarily through state biodiversity boards and biodiversity management committees(BMC) constituted at grassroots level. more..
---
Compensation likely for farmers in Western Ghats
The expert panel set up by the government to formulate Kerala's response to the report of the Kasturirangan committee on the conservation of the Western Ghats is considering an economic compensation programme to protect the interests of farmers in the villages named Ecologically Sensitive Areas (ESAs).
Official sources said the panel had discussed a series of economic incentives initially mooted by the Kerala State Biodiversity Board to promote stakeholder interest among the farmers and ensure their participation in environmental management. Conservation grants are likely to be recommended for farmers involved in ecosystem services such as multiple crop farming, maintenance of traditional breeds, organic farming, watershed protection and use of renewable energy sources.
Since the 1980s, the United Nations Environment Programme, Food and Agricultural Organisation and World Bank have recognised Payment for Ecosystem Services (PES) as an instrument for biodiversity conservation and repair of damaged ecosystems.
A senior official said the incentives were expected to assuage the fears of the settler farmers and residents who have been on the warpath against the demarcation of ESAs by the High Level Working Group headed by Mr. Kasturirangan. more..
Pune may have its own animal
It is well known that tiger is the national animal and the giant squirrel or shekru is the official state animal and now a city-based NGO is inviting suggestions from experts and the general public to propose "symbolic nature denizens" of Pune district.

"The declaration of a national animal or bird has allowed for greater awareness and conservation efforts for the particular species. If we are able to declare endemic species as Pune's official animal, bird, tree or flower, hopefully we can improve awareness about those species as well as increase conservation efforts," said Sachin Punekar, president of Biospheres.

The NGO, along with the Pune division of the state forest department and the Pune Municipal Corporation's Indradhanushya Environment Education and Citizenship Centre, is organizing a three-day Biodiversity festival in the city starting December 20.

On the second day of the festival, experts in the field of biodiversity, NGOs, officials of the forest department, researchers and nature lovers will have a brain-storming session to discuss the matter.

"We do not want to restrict the search to merely mammals, birds or trees. Pune has rich wildlife diversity; there are some fascinating arachnids, insects and reptiles. We could decide on selecting species from these categories as well," Punekar said.

After the event, the proposal will be sent through the forest department to the state biodiversity board, he added.

Apart from this session, the festival will include the release of two brochures on the biodiversity of Pune and on the recently notified Tamhini Wildlife Sanctuary. It also includes nature trails, photography competitions - both for amateur and professional photographers, film screenings, lectures etc. more..
Committee completes hearing on Protection of Western Ghats report
The three-member expert committee constituted by the government to take evidence from the public on the K. Kasturirangan panel's recommendations for protecting the Western Ghats will submit its report within 10 days.The committee, which has Kerala State Biodiversity Board chairman Oommen V. Oommen as convener and comprises V.N. Rajasekharan Pillai, executive vice-president, Kerala State Council for Science, Technology and Environment, and P.C. Cyriac, former chairman, Rubber Board, completed its hearings, the last one with non-governmental organisations here on Friday.
Mr. Oommen said suggestions, concerns and complaints that were aired by the public during the hearings held at 27 sites from Aralam in Kannur to Amboori in Thiruvananthapuram would be assimilated soon. More than 35,000 people had attended the hearings.
A final report, based on the committee's findings during the hearings and culled from over 9,000 memoranda submitted by individuals, NGOs, schools, public representatives, farmers' organisations and so on, would be submitted within 10 days.Answering a query, Mr. Oommen, who said large-scale, highly mechanised quarrying activities that were a threat to the Western Ghats had come to the committee's notice during its visits, indicated that the committee might recommend another field survey to ensure accurate demarcation of land since there were complaints that some areas were incorrectly classified as ecologically sensitive areas.The committee would do this after deciding on whether there was any unscientific classification in the Kasturirangan panel report.
Stating that they would discuss and include their views in the report on whether the Forest (Conservation) Act of 1980 and the Environment Protection Act of 1986, if implemented in their full essence, were adequate for protection of the Western Ghats, Mr. Oommen and Mr. Cyriac also pointed out that there were several multi-storey constructions in sensitive areas such as Munnar in the State, whereas in other States, there were restrictions on such constructions.
The committee would also discuss the classification of environmentally fragile lands (EFL) and include its views in the report, Mr. Pillai said.Two representatives each of the Kerala Sasthra Sahitya Parishath and the Paristhithi Samrakshana Samithi, three independent agriculturists, and a retired government employee were those who turned up to air their views on the Kasturirangan panel's recommendations during the hearing on Friday source
---
NATIONAL WORKSHOP ON BIODIVERSITY
Rajouri/Jammu, November 25(Scoop News)- National Workshop on Reproductive Biology for Biodiversity Conservation sponsored by Department of Science and Technology, Govt. of India was held at Centre for Biodiversity Studies, BGSB University in which delegates from different Institutes of the country participated.

The workshop is being organized in collaboration with Department of Botany University of Jammu in which Vice Chancellor Prof Irshad A Hamal was chief guest while Registrar Mohammad Rashid Chowdhary was also present.

In the session, Prof. K. R. Shivanna Senior INSA Scientist from Ashoka Trust for Research in Ecology and the Environment (ATREE), Bangalore spoke on seedling recruitment, a major reproductive constraint responsible for species vulnerability, a thrust area of research in conservation of Biodiversity while Dr. Rajesh Tandon spoke on an emerging area of use of mathematical modeling for studying plant – pollinator interactions which are detrimental to species conservation.
In the beginning Prof. B. A. Wafai, Director, CBS acquainted the visitors with the mandate and activities taking place at CBS, BGSBU.

Prof. I. A. Hamal, Vice Chancellor, while participating in the interaction stressed upon the relevance of Reproductive biology in conservation of Biodiversity as without understanding how plants reproduce and what constraints they face in their reproductive process, no effective strategy can be devised for their conservation
Dr. Susheel Verma, Associate Professor, member of the organizing committee of the workshop extended a warm welcome to all the participants and deliberated upon the origin and significance of this one day session of 5 day National Workshop. more..
KERALA HILLS SITTING ON A GREEN VOLCANO
The price man pays for greed. Price man pays for urbanisation, modernisation for moving
away from nature.
Nature is all too powerful, and man is learning too slowly.
In the sweltering sun a group a school children are sitting on dharna in the heart of Idukki town, 300 km from Thiruvananthapuram, raising slogans. A few metres away farmers are on a 48-hour fast. The Kerala hills are on the boil because people fear they will be thrown out of their land once the state government implements the Kasturirangan panel report on measures to protect the ecologically
sensitive areas of the Western Ghats.


Political parties and the Catholic church are in a race to whip up passions. "Kerala will be another Kashmir," thundered Idukki archbishop Mar Mathew Anikuzhikattil. And Thamarasserry bishop Mar Inchananayil went a step further. "Jallianwalla Bagh will be repeated here." Kannur MP K Sudhakaran of the Congress has threatened to resign if the farmers are displaced. And ruling United Democratic Front (UDF) chief whip PC George wants to behead officials who dislocate farmers.


Last year, the Union environment ministry had set up an expert panel under Madhav Gadgil, following an uproar that the Western Ghats, a UNESCO world heritage site, is shrinking alarmingly due to human interference. When all six states opposed the Gadgil panel recommendations vehemently, another committee was constituted under former ISRO chief K Kasturirangan. The Kasturirangan panel had made some changes in the zonal classification and reduced the ecologically sensitive areas (ESAs) to 37% from the 64% estimated by Gadgil.


The majority of the ESAs are inhabited by Christians. "No serious effort has been made to dispel our fears. We are not against protecting the environment but it should not be at the expense of poor people who settled there long ago," said the Idukki bishop.

The state had witnessed a complete shutdown last Monday and violent clashes are now a matter of routine in the hills. The worried UDF government is in a hurry to distribute a Malayalam translation of the report to dispel their fears. But it hasn't achieved the desired results. Though chief minister Ooomen Chandy has reiterated that his government would not evict a single person, his pleas fell on deaf ears. The Kerala high court, hearing a PIL recently, also wanted to know whether those on strike had read the report and what they achieved by calling frequent shutdowns.

Though the Kasturirangan report is a toned-down version of the Madhav Gadgil committee report, it does not mention anywhere that farmers and other settlers would be evicted from the fringe areas of the forests. Rather, it recommends severe restrictions on mindless quarrying, deforestation and mining to save the ecologically sensitive biodiversity hotspots. And these areas cannot have buildings and constructions exceeding 20,000 square feet in area or industries and big townships. But all of this has failed to convince agitating residents, who see it as a ploy to evict them. Political parties and church outfits have fuelled the fire.

"What the state is witnessing is organised muscle-flexing to loot natural resources. It is sad that responsible political parties and religious outfits are playing into the hands of the quarry and real estate mafias," said green activist John Peruvananthanam.

For the CPI(M), which wants to curry favour with the church, which always supported the Congress-led dispensation, it turned out to be a golden opportunity. With the general elections round the corner, it wants to exploit it. And the Congress has advised its leaders not to lock horns with religious leaders over the issue.COURTESY
DOCU-FICTION TO BE MADE ON MADAYIPARA
The biodiversity-rich Madayipara, near Ezhimala here, will be the theme of a docu-fiction being produced that features the ecological importance of the midland laterite plateau.
The one-hour-and-a-half movie, being directed by N.N. Baiju, is based on the script of P.K. Bhagyalekshmi. Madayipara, according to Mr. Baiju, is an area rich in history, culture, and biodiversity. The docu-fiction he is directing under the banner of Ilappacha Creations will highlight the unique ecological importance of the area which is now facing encroachments and destruction.
The area has rare herbs and a perennial natural pond, he says, adding that as many as 129 species of butterflies are recorded in the area.
Mr. Baiju says the objective of the film is just to capture for the posterity the seasonal changes of the habitat that is depicted in the novels of N. Prabhakaran and plays of Ibrahim Vengara.
SCORES OF PRESENTATIONS ON SECOND DAY OF MNNIT'S BIOTECHNOLOGY CONFERENCE
The second day of the international conference on health, environment and industrial biotechnology, 'BioSangam 2013' conducted by the Department of Biotechnology, MNNIT saw enthusiastic participation under different themes of the competitive categories.
The day started with the first session of the Young Scientist Award category, which was chaired by Prof Peter Greenberg from University of Washington and Prof Eugenia Bezirtzoglou from Democritus University of Thrace, Greece. The session had a total of seven presentations.more..
1,000 BIRDS ARRIVE ON YAMUNA WETLANDS
For those who like watching wetland birds, this may be the perfect time to visit the Yamuna Biodiversity Park. Around 1,000 migratory birds have already reached the Yamuna wetlands.
These birds-which include Red Crested Pochards, Tufted Pochards, Common Pochards, Eurasian Wigeon, Northern Shovellor, Gadwalls, Pintails and Coots -come from different parts of Siberia and Central Asia. "They come around this time each year and stay till March. More birds are expected soon," said Mohammed Faisal, scientist B, Yamuna Biodiversity Park. more..
*ORISSA CENTRAL UNIVERSITY HAD ORGANIZED A SEMINAR ON BIODIVERSITY AND CLIAMTE CHANGE
National Seminar on "Climate Change and Biodiversity" is being organised by the School of Biodiversity and Conservation of Natural Resources, Central University of Orissa on 23rd and 24th November, 2013 at its main campus at Sunabeda. The Vice Chancellor, Prof. Surabhi Banerjee will inaugurate the National Seminar. Noted Environmental specialist Prof. K.G. Saxena of Jawaharlal Nehru University, New Delhi will deliver keynote address. Specialists on Climate Science and Biodiversity Conservation and Research Scholars from different prestigious Universities and scientific bodies will be presenting their papers during the two days deliberations. Dr. Sharat Kumar Palita, Acting Dean School of Biodiversity and Natural Resources, Dr. Kakoli Banerjee, Asst. Professor & Dr. Debabrata Panda, Asst. Professor of the School are organising the National Seminar as Chairman, Convener & Co-Convener of the organising Committee. Climate change is one of the most important global environmental challenges facing humanity with implications for food production, natural ecosystems, freshwater supply, health, etc. Scientific evidence shows that most of the warming observed over the last 50 years, is attributable to human activities. Levels of greenhouse gases in the atmosphere are rapidly increasing, warming the Earth's surface and lower atmosphere. The impacts of climate change are being felt all over the world. It is becoming warmer, rainfall is more erratic, the sea level is slowly rising and extreme weather events are becoming more frequent and intense. Prolonged periods of drought, floods and shifting climatic zones are affecting development successes. The poor and marginalised are often most affected by climate variability and change. More than half of India's population of over 1 billion people lives in rural areas and depends on climate-sensitive sectors like agriculture, fisheries and forestry for their livelihoods. Natural resources and the environment are already under pressure as a result of rapid urbanisation, industrialisation and economic development. Climate change is projected to enhance these pressures. In this backdrop, the National Seminar on "Climate Change and Biodiversity" is being organised by the School of Biodiversity and Conservation of Natural Resources, Central University of Orissa. COURTESY
*DENGUE AND OTHER INFECTIOUS DISEASES TO WIDESPREAD DUE TO CLIMATE CHANGE!!! 2 AUG 2013
The venerable Science magazine has a special issue out today on climate change. Some of the content is free, and it's well worth checking out. That includes an article on one of the most important and perplexing areas in global warming research: the possible connection between a changing climate and a growing threat from infectious disease.
It's been known for awhile that warming temperatures could help certain diseases. Malaria, which kills about 650,000 people a year, thrives in the hot and humid areas where the Anopheles mosquito can live. As the climate warms, the territory where the mosquito and the malaria parasite will be able to live will likely expand, putting more people at risk. Already dengue fever, another mosquito-borne tropical disease, has reestablished itself in the Florida Keys, where it was wiped out decades ago. Tropical diseases will loom that much larger in a warmer world, as host-parasite cycles accelerate. In the Arctic, which is warming faster than any other region on the planet, higher temperatures are allowing parasites like the lungworm, which afflicts muskoxen, to develop faster and be transmitted over longer periods.
But as the Science study—by American and Canadian researchers—points out, the connection between climate change and disease is actually a lot more complicated than that. It's true that warmer temperatures may be helping dengue fever to return to the Florida Keys, but the disease was initially vanquished in the 20th century not because the climate was cooler, but because public health officials systematically controlled mosquito populations, cutting off the spread of the dengue virus. Both Singapore and Burma are tropical countries well within the malaria belt, but rich, urban Singapore has largely eliminated malaria, while the disease is still common in impoverished, rural Burma. (I should know—I contracted a mild case of malaria while reporting along the Thai-Burmese border in 2005.) Healthcare infrastructure and wealth—or lack it—have a lot more to do with the spread of infectious disease than climate change does, and that will continue to be the case even as the globe warms.
Still, the study points out that climate change will be a major factor in the spread of infectious disease in the future—and the impact is likely to be even greater in wildlife and agricultural systems, which aren't likely to be able to react as quickly as human beings can. In the Caribbean, where I was just on a reporting trip, warmer water temperatures have stressed vulnerable corals, which then leaves them less able to fight off infections by pathogenic fungi and bacteria. Whole species of coral in the Caribbean have been lost thanks to the rapid spread of disease—and since corals are the framework builders of the marine ecosystems, other species can quickly follow them into oblivion.
As coauthor Richard Ostfeld of the Cary Institute of Ecosystem Studies in New York put it in a statement:
Biodiversity loss is a well-established consequence of climate change. In a number of infectious disease systems, such as Lyme disease and West Nile virus, biodiversity loss is tied to greater pathogen transmission and increased human risk. Moving forward, we need models that are sensitive to both direct and indirect effects of climate change on infectious disease.
Climate change is likely to impact infectious disease just as it will impact other areas of life. Human beings—especially relatively rich ones—will muddle through, adapting to a warmer, more parasite-ridden world. Plants and animals, though, won't be able to adapt as fast, or perhaps at all. Good thing we don't need them. Right?
Read more...
---
*INDIA SUGGESTS DIPLOMATIC CONFERENCE ON INTELLECTUAL PROPERTY AND GENETIC RESOURCES TO BE HELD IN 2014: BIODIVERSITY 25 JULY 2013
A World Intellectual Property Organisation (WIPO) committee is poised to push a global treaty on traditional knowledge (TK).
This international law in-the-making is of relevance to local communities, local industry and large private entities engaged in bio-prospecting as well as R&D in products and services derived from genetic resources.
WIPO's stated objective is to develop a balanced and effective international intellectual property (IP) system. But harmonising law and practice on certain IP issues is seen by some as part of the problem, since there are many local rules on TK.
GLOBAL COMMITTEE
Countries with vast people's know-how on genetic resources have been pointing out how IP laws on TK lead to misappropriation.
Yet WIPO has taken it upon itself to develop international IP law on the subject of TK!
This is being done through an Inter-governmental Committee on Intellectual Property and Genetic Resources, Traditional Knowledge and Folklore (IGC) set up by WIPO in 2001. The IGC's jubilee session, IGC 25, is currently under way (July 15-24) in Geneva, Switzerland at the WIPO headquarters.
Through IGC, WIPO has been facilitating a consensus on genetic resources (GR), traditional cultural expressions (TCE) and TK.
The negotiations have now reached a critical stage. Draft texts are ready. And the IGC needs to indicate to the WIPO General Assembly if and when to convene a diplomatic conference, where the drafts can be made into a legally binding treaty among countries.
COUNTRY POLITICS
WIPO, a UN body, is not devoid of the politics among the world's nations that the UN system reflects. Powerful and big-budget governments can come to bear on issues. User/accessor countries (like the US) insist TK can be protected by an IP system. There are those from indigenous and local populations who consider IPR on TK an anathema.
Unfortunately, there is no common message resonating from the different developing countries. For instance, many African nations do not agree with India that the end beneficiaries should be identified as 'the nation'.
They are more inclined that the beneficiaries of protection of TK should include "indigenous peoples", or "traditional communities".
NEXT STEP
Indigenous groups, such as the Tulalip tribes attending the session point to how the world is not yet ready for the diplomatic conference.
They make the critical point that such a treaty cannot be negotiated without considering the existing laws on the subject.
Like bio-diversity-dependent populations in India, they do not want to lose control over their GR, TK and folklore.
The Indian delegation is of the view that much work has been done in the past 15 years through WIPO processes both inside and outside the IGC, and with the fairly mature texts as of date, the time is right to take the next step.
India is, therefore, suggesting that a diplomatic conference be held in 2014. In response to the US suggestion to extend the IGC by another two years, merely for further fact-based studies on impacts of compulsory disclosure,
India feels that too much of analysis can lead to paralysis. But the interests of the government and local communities do not coincide here.
The Indian Patent Act has provided safeguards against the patenting of TK per se.
The grant of approvals for India's knowledge and/or the trade in genetic resources has been institutionalised through the Biological Diversity Act, 2002.
Many popular movements are wary of the proposed international treaty empowering governments in the name of protection to tread into areas they had either chosen not to enter into or been forced to keep out of. MORE..
---
*TOP 15 SEED BANKS IN THE WORLD!!!!!2 AUG 2013
There are roughly 100,000 global plant varieties endangered in the world. Extreme weather events, over-exploitation of ecosystems, habitat loss, and a lack of public awareness threaten future plant biodiversity. Conservation techniques, such as the creation of seed banks and seed exchanges among farmers, gardeners, and even nations, play an important role in preserving ancient, heirloom varieties of important food crops.

Saving seeds doesn't only help improve agricultural biodiversity, but helps farmers and researchers find varieties of crops that grow better in different regions, especially as the impacts of climate change become evident. Many farmers groups, non-profits, and governments are conserving crops in their own communities-there are currently more than 1,000 known seed banks, collaboratives, and exchanges around the world.

The Science & Environmental Health Network (SEHN) has been spearheading work on the Rights of Future Generations for the last decade. Future Generation Guardianship is the right and obligation of all people to protect the commonwealth of Earth-and one another-for the prosperity of Future Generations. SEHN's dedication and public advocacy to find legal channels for the application of Future Generation Guardianship provides the framework for preserving biodiversity for centuries to come.

Food Tank is honored to collaborate with SEHN by highlighting these 15 important seed-saving projects across the globe that are helping preserve global agricultural biodiversity for Future Generations.

Many of these seed banks are nonprofit organizations, but we would greatly appreciate your recommendations of other public and state-owned banks in the comments. Many public seed banks are in danger of sale, contamination, and other threats. Because they are such a valuable part of the Commonwealth, the public needs to be aware of these assets so that they can work to protect the inheritance of Future Generations.

1. AVRDC - The World Vegetable Center
AVRDC - The World Vegetable Center is a nonprofit organization dedicated to alleviating poverty and improving nutrition through extensive research and outreach. AVRDC aims to improve the livelihoods of poor rural and urban households through the cultivation of more efficient vegetable varieties combined with effective production methods.

Headquartered in Shanhua, Tainan City in southern Taiwan, AVRDC - The World Vegetable Center now has over 300 staff members throughout Asia, sub-Saharan Africa, Central America, and Oceania. One of AVRDC's primary programs includes collecting, conserving, and distributing germplasms, samples of tissue from plants.

Now the world's largest public vegetable germplasm collection, the AVRDC Genebank holds more than 59,500 different germplasms from 156 countries. The AVRDC Vegetable Genetic Resources Information System (AVGRIS) is a database containing information about the germplasm collections.

2. Camino Verde
Camino Verde is a nonprofit with locations in Concord, Massachusetts and Puerto Maldonado, Peru. Camino Verde's mission is to plant trees and encourage future planting through educational programs and public awareness.

The initiative's Living Seed Bank is a botanical garden with more than 250 tree species, and it protects endangered varieties and provides an arena for further research into multi-species agroforestry systems. Camino Verde has planted some 70 different varieties of fruit trees, 40 flowering species, and enough trees to cover seven hectares of land.

3. Great Lakes Bioneers Chicago (GLBC) Seed Saving Initiative
The Great Lakes Bioneers Chicago Seed Saving Initiative was created in 2012 out of the Chicago Bioneers Conference, where Vandana Shiva challenged audience members to begin their own local seed saving projects. The GLBC mission states that "this project is to honor and elevate the work of seed saving for the purposes of protecting and expanding the non-GMO native and edible seed saving projects."

The initiative aims to expand by holding local and regional events to bring seed savers together to exchange and store regional varieties.

4. Hawai'i Public Seed Initiative
The Hawai'i Public Seed Initiative (HPSI), created by The Kohala Center and funded by the Ceres Trust, assists Hawaiian farmers by holding workshops to educate them about storing and improving their seed varieties. HPSI also organizes seed exchange events, bringing farmers together to trade varieties from different parts of Hawai'i. HPSI's goal is to build knowledge of seeds through improved communication and information, and to preserve the diversity of home gardens.

5. International Center for Tropical Agriculture
The International Center for Tropical Agriculture (CIAT), a member of CGIAR, is dedicated to "reduc[ing] hunger and poverty, and improv[ing] human health in the tropics through research aimed at increasing the eco-efficiency of agriculture."

Headquartered in western Colombia, CIAT's high quality research focuses on developing techniques, technologies, and methods to enhance eco-efficiency in agriculture primarily for small farmers. CIAT conducts crop research with its extensive genebank, which holds 65,000 crop samples from all of CIAT's regional offices in Kenya, Vietnam, Honduras, and Nicaragua.

CIAT aims to alter legislation and supply information from their research on issues of climate change, farmers' market access, and gender equity.

6. Louisiana Native Plant Initiative
The Louisiana Natural Resources Conservation Service began the Louisiana Native Plant Initiative to collect seeds, preserve native varieties, increase flora abundance, and research plant materials for future re-vegetation projects. Louisiana is home to a plethora of endangered varieties of plants such as the longleaf pine, switchgrass, big bluestem, and partridge pea. The initiative has spearheaded several new conservation projects, combining public and private managers in order to release native plants for commercial production.

7. Man and the Biosphere Programme
Launched in 1971 under the supervision of the United Nations Educational, Scientific, and Cultural Organization (UNESCO), the Man and the Biosphere Programme (MAB Programme) aims to conserve biological resources by improving the relationship between humans and the environment. Today, with the help of the MAB Programme, there are 621 biosphere reserves categorized in 117 different countries. The MAB Programme utilizes international, regional, and sub-regional partnerships to increase their global intelligence work.

8. Millennium Seed Bank Partnership
The Millennium Seed Bank Partnership, started by the Royal Botanic Gardens, Kew is the largest plant conservation project in the world. Since 2000, Kew's Millennium Seed Bank Partnership has saved 10 percent of the world's wild plant species at their location in Wakehurst, England. The seed bank has one billion seeds from 130 partnering countries.

Similar to other seed banks, each seed is duplicated and the replica remains in the home country of origin. Kew's long-term goal is to house seeds from 25 percent of the world's bankable plants by 2020. Researchers at the seed bank can test centuries-old plants for medicinal purposes, assess horticultural value, and produce more seeds to increase global biodiversity.

9. Native Seed / SEARCH
Native Seed / SEARCH (NS/S) is a nonprofit organization dedicated to seed conservation in the Southwest United States and Northwest Mexico. Based in Tucson, Arizona, NS/S has a state-of-the art conservation facility, 2,000 varieties of arid land-adapted seeds, and a reputation as a leader in heirloom conservation. Their seed bank currently houses varieties of traditional crops including corn, beans, and squash once used by the Apache, Havasupai, Hopi, Maricopa, Mayo, and many other tribes.

NS/S aims to maintain the genetic purity of these traditional, wild strands of crops. In order to conduct further research and education workshops, NS/S purchased a conservation farm in 1997 to continue to build public awareness about the importance of biodiversity.

10. Navdanya
Navdanya is a research-based initiative founded by Dr. Vandana Shiva, a world-renowned scientist and environmentalist. Navdanya, meaning "nine seeds" in Hindi, saves endangered seed varieties through its seed vault, and provides support for local farmers. They also conduct research on sustainable farming practices at their own organic farm in Uttarakhand, North India.

Navdanya has collected roughly 5,000 crop varieties, primarily staples such as rice, wheat, millet, kidney beans, and medicinal plants. Navdanya's outreach program has established 111 additional seed banks in 17 Indian states. Navdanya has also created a learning center, Bija Vidyapeeth in Doon Valley, Uttarakhand. Bija Vidyapeeth offers courses on biodiversity protection, agroecological practices, water conservation, and more.

11. New York City Native Plant Conservation Initiative
In 2008, the New York City Department of Parks & Recreation (DPR), in partnership with the Brooklyn Botanic Garden (BBG), started the New York City Native Plant Conservation Initiative to promote and conserve diverse native plant species. Launched with 34 endangered species, the initiative hopes to preserve New York City's biodiversity and generate awareness surrounding the conservation of urban plant varieties.

DPR and BBG use their research on endangered plants to create new management strategies in the interest of promoting future biodiversity in the city. Additionally, the New York City Native Plant Conservation Initiative has a list of all native plant species in the city, which is used to develop seed transfer zones without diminishing the genetic fitness of the native plants.

12. The NSW Seedbank
The NSW Seedbank began in 1986 as an initiative to collect wild seeds for the Australian Botanic Garden in Mount Annan. Over the last three decades, the seed bank has grown to save and preserve Australian native and threatened plant species.

After a major upgrade in 1999 and creating a partnership with the Millennium Seed Bank in 2003, the NSW Seedbank launched a range of horticultural research projects in their on-site laboratory. NSW Seedbank now documents 600 threatened plant species and 81 threatened ecological communities.

13. Seed Savers Exchange
Seed Savers Exchange (SSE) is a non-profit organization dedicated to saving and sharing heirloom seeds. SSE's mission is to "conserve and promote America's culturally diverse but endangered food crop heritage for Future Generations by collecting, growing, and sharing heirloom seeds and plants."

Headquartered in Decorah, Iowa, Seed Savers Exchange began in 1975 and its seed bank is now one of the largest in North America. Individuals and organizations become members of the seed bank and SSE facilitates communication and exchange of seeds among members.

Aside from their primary seed bank location at Heritage Farm in Decorah, SSE also maintains seed banks at the National Center for Genetic Resources Preservation in Fort Collins, Colorado and at the Svalbard Global Seed Vault in Norway. SSE also offers services to nonmembers through the sale of more than 600 heirloom varieties.

14. Slow Food International
Slow Food International is a movement that began in the mid-1980s to give individuals an alternative to fast food and fast lives. Slow Food International believes in "neo-gastronomy," or the recognition of the strong connections between plate, planet, people, and culture, and has more than 100,000 members in 150 countries.

The Slow Food Foundation for Biodiversity was created in 2003 as a subcategory of their Terra Madre initiative to increase and preserve food biodiversity. The Foundation's Ark of Taste program collects regionally and culturally significant food products to catalogue and promote their global consumption.

Their goal is to preserve history and traditions relating to food products around the world. So far, 1,200 products have been catalogued internationally, including the Pampin Mamey Sapote, native to Central America. Many national and local Slow Food organizations have begun their own seed saving initiatives to preserve heirloom varieties.

15. Svalbard Global Seed Vault
CGIAR and conservationist Cary Fowler founded the Svalbard Global Seed Vault in 2008. The vault, also known as the "doomsday vault," rests more than 1,100 kilometers south of the North Pole. Seeds are stored in permafrost conditions, approximately -18 degrees Celsius, to ensure preservation. The Svalbard Global Seed Vault acts as a sort of insurance policy for other seed banks around the world, only accessing the seeds if the original is destroyed.

The Seed Vault can hold up to 2.25 billion seeds in total, equaling 500 seeds of some 4.5 million crop varieties. Priority for space in the vault is given to seeds that can ensure food production and sustainable agriculture, and the collection is primarily composed of seeds from developing countries. The seed vault is managed by the Norwegian government, the Global Crop Diversity Trust, and the Nordic Genetic Resource Center.
---
*CLIMATE CHANGE COULD WIPEOUT INDIAN BIRDS !!!!! AUG 2 2013
Climate change has been the alarming reality for some time now and humans have been grappling with the threat in various ways. But the disastrous impact of impending and accelerated climate change could strike our avian friends first. A new study in UK by Durham University and BirdLife International (of which BNHS is the India Partner) on Asian bird species reveals that many are likely to suffer due to climate change and will require not just enhanced protection of important and protected sites, but also better management of the wider countryside. In some extreme cases, birds may be required to be physically moved to climatically suitable areas for survival.

The research, published in the journal 'Global Change Biology', examined the potential future distribution of species where suitable climate is likely to remain within protected areas and conservation sites, such as important bird areas (IBAs) and also the likelihood of an IBA network to maintain suitable habitats outside protected areas. This study was conducted for 370 Asian bird species whose conservation is a cause of concern, across the biodiversity hotspots of eastern Himalaya and lower Mekong river basin regions.more..
---
* Steps for taking appropriate interventions to conserve biodiversity
The National Biodiversity Authority (NBA) is working on an ambitious project to estimate the economic value of biodiversity goods in the country.
NBA Chairman Balakrishna Pisupati told The Hindu recently that the project is designed to support the development of a mechanism for Access to biological resources and Benefit Sharing (ABS), a key element of the Convention on Biological Resources (CBD). The pilot project covering agricultural, forest, and wetland ecosystems is being implemented in Sikkim, Himachal Pradesh, West Bengal, Andhra Pradesh, and Gujarat, Dr. Pisupati said. The project is expected to come up with a simplified methodology for economic valuation of ecosystem goods over the next few months. "We are currently looking at biodiversity goods only because the inclusion of services would make it complicated," he says.
"At the global level, we are stuck with a strange situation on the use of biological resources. The user does not know the value of the product while the provider is equally ignorant of the value of the material. A negotiation between the two is something like fighting in the dark. Some countries have come up milestone benefits that stagger payments over the product development br /phase to cover risks. But it may not work everywhere. Our effort is to take up economic valuation of ecosystem goods as a fundamental element of ABS," he explains. 14/11/12
*
The Business Case for Ecosystems and Biodiversity
*
BHOPAL: The state bio-diversity board has issued notices to 538 companies involved in 'illegal' collection of bio-resources, especially medicinal plants, for commercial utilization.
Collection and transportation of plants of medicinal, nutritional or cosmetic values in bio-rich districts of the state continue on a big scale. At a conservative estimate, the illegal "practice' is making biodiversity management committees across the state poorer by Rs 50 crore annually, said a source in the state bio-diversity board. "Most of the companies are ignorant of rules. Initially, we are trying to create awareness about the rules and regulations. Action would be taken in the second phase, if they continue flouting norms," said D P Tiwari, board's state coordinator. 12/11/12
* India took the lead in highlighting endangered sea sites as one of the five top-level themes at the Hyderabad CBD. It is odd therefore, that the country does not have any comprehensive law that deals with this important subject. 12/11/12
* Thiruvananthapuram: The country's first national biodiversity congress will be held here next month to discuss various issues concerning biodiversity, ecology and environment with food security as the focal theme.

Vice President Hamid Ansari would inaugurate the four-day "National Biodiversity Congress-India 2012" (NBC), jointly organised by the National Biodiversity Authority of India and State Biodiversity Boards at Kanakakunnu Palace here on December 27. source
* NEW DELHI: The city will soon have a special committee on biodiversity for 10,000 hectares designated for the purpose. In a meeting held recently, LG Tejendra Khanna announced the creation of the Delhi Biodiversity Foundation Society that will function as a registered body under the Delhi Development Authority. Officials said that four biodiversity parks in addition to the Yamuna and Aravalli BDPs will be developed.
The biodiversity park is being planted with native species, though even now about 30% of the park is covered with a dense growth of Prosopis juliflora or the vilayati kikar, a plant that was introduced by the British and which did not allow any other species to prosper. "We started with 85% coverage of Prosopis juliflora, but in the past 5 years we have re-introduced native species," said Hussain.
The park, being developed by DU's Centre for Environment Management and Degraded Ecosystem, will be divided into 4 zones eventually. The major part will be occupied by the nature reserve while the other three sections will include the visitor's area, a nature educational zone and a rangeland.
The land is on Haryana border and will provide a direct corridor for the wildlife of both states, said Prof C R Babu, project in-charge of the BDPs.
* Gaining from rain: precipitation is an indicator of tropical forest biodiversity


Policymakers seeking to conserve forests in southern India should focus on those receiving the highest levels of rainfall,
Read more at

*
BHOPAL: Notices were served under Section 7 and Section 24(1) of Biodiversity Act 2002 and Section 17 of MP Biodiversity Rules 2004, which says, "No person, association or organization which is registered in India or abroad, shall obtain any biological resources for commercial utilization or bio-survey and bio-utilisation for commercial utilization except after giving prior intimation to the state biodiversity board."
Act enacted for benefit sharing: India enacted the Biological Diversity Act, 2002, which was developed after an extensive consultation process initiated in 1994. The Act primarily aims at giving effect to the provisions of the Convention on Biodiversity (CBD-1992), including regulating access to biological resources and associated traditional knowledge so as to ensure equitable sharing of benefits among conservers, arising out of their use. TNN The state government promulgated the Biological Diversity Rules in 2004.
*
The second Indian Biodiversity Congress (IBC) scheduled to be held in Bangalore in December will propose strategies for inclusive action in biodiversity conservation.
One of the highlights of the event is a meet on 'Green politics' that will seek to orient the political system in India towards green ideologies to achieve conservation of nature and sustainable development. The interactive meeting involving politicians, conservationists and civil society, will discuss the strategies and action plans to introduce green ideologies into mainstream politics, a press note issued by the IBC secretariat here said. source


* Farming and biodiversity can coexist: Stanford
* CII, World Bank Group ink pact to save tiger 27/6/12
* MaharashtraBiodiversity board focuses on conservation
The Maharashtra state biodiversityboard, in its first stakeholders' meeting in the city recently, has come up with a plan to bring together NGOs documenting or working towards biodiversity conservation in the state, identify areas of unique biodiversity value and take up conservation of biodiversity outside protected areas.
The board will ensure that the Biological Diversity Act 2002 is implemented in the state.
Erach Bharucha, chairperson of the board, told TOI that the board has the authority to implement the Biological Diversity Act 2002.
"We want to implement this act in the state. The board will facilitate recognition and constitute local biodiversity management committees for promoting conservation through relevant local self-government bodies like gram panchayats and municipal corporations,'' he said.
"They will develop and maintain people's biodiversity registers based on local traditional knowledge, among others,'' he said.
The next regional meeting will be held in Nagpur. Bharucha said, "We will take up conservation of biodiversity hotspots in the state, especially rare, endangered, and threatened species of flora and fauna outside the protected areas. Workshops will be conducted with the identified NGOs.''
"Experts' committees will be appointed for specific issues related to the Biological Diversity Act 2002.'' more

* Science Express to raise awareness on biodiversity
Science Express - a 16-coach train for promoting scientific temper - today began its fifth journey, this time to raise awareness about the country's
unique biodiversity.
The 'Science Express - Biodiversity Special (SEBS)' was flagged off by Environment Minister Jayanthi Natarajan and Delhi Chief Minister Sheila Dikshit at the Delhi Safdarjang Railway Station here this morning.
The train will remain at the Safdarjung Railway Station till Thursday after which it will begin its journey to reach out to over a million people.
It will be stationed at Hyderabad from October 9-19 when the city would host the 11th meeting of the Conference of Parties to the Convention on Biological Diversity.
The train will culminate for the year at Gandhinagar on December 22.
Of the 16 coaches comprising the SEBS, eight are dedicated to showcasing biodiversity spread across the various bio-geographical zones - the Trans-Himalaya and the Himalayas, the Gangetic Plain, North East India, the Desert and Semi-Arid Zone, the Western Ghats, the Deccan Peninsula and the Coasts and Islands.
Three other coaches have exhibits on climate change, energy and water conservation.
During June-December 2012, the train will travel almost 18,000 kms, halting for three to four days at each of the 52 locations.
According to the ministry, the exhibition is expected to draw more than 1.5 million visitors, while indirectly it is likely to engage over five million people.
The Science Express began as an Indo-German venture in 2007 and has toured the country four times. source
* The expert committee formed to study the issue of bio-diversity park (BDP) reservation for the Pune Municipal Corporation (PMC) is learnt to have recommended conservation of city hills with no scope even for limited development. The panel has also suggested incentives for private parties whose land on the hills is acquired for conservation. While the expert panel may seem to agree with citizens' demand, protecting the hills may still be a far-fetched idea as was evident on Tuesday when state urban development minister Bhaskar Jadhav evaded queries related to the committee report after the inauguration of the India Municipal Vision 2020 conference in the city. This, after Rajya Sabha MP Vandana Chavan stating that she hoped the state government would initiate action on the committee report.
After a long delay, Chief Minister Prithviraj Chavan had cleared the propopsed development plan (DP) for 23 merged villages earlier this year but the decision on reservation for BDP was kept pending. Chavan had appointed an expert committee to study the issue and recommend solutions to the state government.
"It is learnt that the expert committee has submitted its recommendations to the state government in May. It favoured the public demand for total conservation of the hills instead of allowing limited development," said Chavan at the inauguration.She added that the state should make its decision public based on the recommendations of the committee and initiate action.
Jadhav, however, stayed away from making announcements regarding the report and later, during a press conference, eluded all queries on the issue. "I am not aware of the report submitted by expert committee. The state government is committed to maintaining the interest of public and would find a way out so that owners do not suffer losses while giving up land for conservation," he added.


* Biodiversity conservation projects in 6 TN districts 9/6/12

* India lacks a good brand ambassador for biodiversity
* 'Puneites must take up implementation of Biodiversity Act'
* Sanjay Gandhi Biological Park: A paradise for morning walkers
* parasites are very important parts of ecosystems
* India's purple frog grabs attention ahead of Rio summit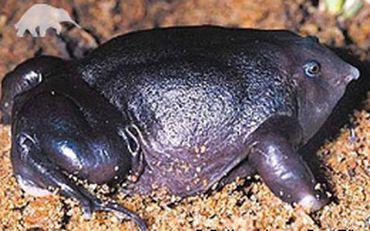 * IGNOU launches Online Appreciation Programme on Biodiversity
* Bridging the Biodiversity Finance Gap
* Why preserving biodiversity is really, really important
* Corporates evince interest in AP Govt efforts to host UN biodiversity meet




* Extinction of Birds in India - 2010
A number of birds are on the verge of extinction in the country. As per the report of the scientific institutions like Wildlife Institute of India, Dehradun, Bombay Natural History Society, Mumbai and Salim Ali Centre for Ornithology and Natural History, Coimbatore, the IUCN Red List version 2010.1 indicates 14 Critically Endangered species of birds from India. The details of the bird species reported from India which are listed as Critically Endangered are at Annexure.
The important steps taken for protecting the endangered birds of India are given below:
(i) Rare and endangered birds are included in Schedule-I of the Wild Life (Protection) Act, 1972 thereby according them highest degree of protection.
(ii) Stringent punishments have been provided for in the Wild Life (Protection) Act, 1972 for violation of the provisions of the Act.
(iii) Important habitats of birds, including endangered and migratory birds have been notified as Protected Areas under the Wild Life (Protection) Act, 1972 for better conservation and the protection of birds and their habitats.
(iv) Financial & technical assistance is provided to the State/Union Territory Governments for protection and management of the Protected Areas.
(v) The State/Union Territory Governments have been requested to strengthen the field formations and intensify patrolling in and around the protected areas.
(vi) Wildlife Crime Control Bureau has been established for control of illegal trade in wildlife, including endangered species of birds, and their parts and products.
(vii) India is signatory to all major international conventions relating to conservation and management of wildlife, including endangered species of birds. These are Convention on Biological Diversity, Convention on International Trade in Endangered Species of Wild Fauna and Flora, the Convention on International Trade in Endangered Species of Wild Fauna and Flora and Ramsar Convention on Wetlands of International Importance.
(viii) The Sub-committee constituted under National Board for Wildlife, has developed Guidelines for Threatened Species Recovery Plan and has also identified Great Indian Bustard, Jerdon's Courser and Nicobar Megapode as threatened bird species, for conservation and better management of their habitats on priority basis.
(ix) Research and monitoring activities on birds are promoted by the Government through reputed research organizations. Wildlife Institute of India, Bombay Natural History Society and Salim Ali Center for Ornithology and Natural History are some of the research organizations engaged in research for conservation of birds.
ANNEXURE
****
Details of bird species reported from India which are listed as Critically Endangered in IUCN Red List version 2010.1
| | | | | |
| --- | --- | --- | --- | --- |
| S. No. | Common Name | Scientific Name | Family | Status |
| 1 | White-rumped Vulture | Gyps bengalensis | Accipitridae | CR |
| 2 | Indian Vulture | Gyps indicus | Accipitridae | CR |
| 3 | Slender-billed Vulture | Gyps tenuirostris | Accipitridae | CR |
| 4 | Red-headed Vulture | Sarcogyps calvus | Accipitridae | CR |
| 5 | Pink-headed Duck | Rhodonessa caryophyllacea | Anatidae | CR |
| 6 | White-bellied Heron | Ardea insignis | Ardeidae | CR |
| 7 | Sociable Lapwing | Vanellus gregarius | Charadriidae | CR |
| 8 | Christmas Frigatebird | Fregata andrewsi | Fregatidae | CR |
| 9 | Jerdon's Courser | Rhinoptilus bitorquatus | Glareolidae | CR |
| 10 | Siberian Crane | Grus leucogeranus | Gruidae | CR |
| 11 | Bengal Florican | Houbaropsis bengalensis | Otididae | CR |
| 12 | Himalayan Quail | Ophrysia superciliosa | Phasianidae | CR |
| 13 | Spoon-billed Sandpiper | Eurynorhynchus pygmeus | Scolopacidae | CR |
| 14 | Forest Owlet | Heteroglaux blewitti | Strigidae | CR |
CR: Critically Endangered.
* Conservation of Great Indian Bustard
The total population of Great Indian Bustard in the country is estimated to be 296. The State-wise details of estimated number of Great Indian Bustard in the country are as follows:
| | | |
| --- | --- | --- |
| S.No. | Name of State | Estimated Population (no. of individuals) |
| 1 | Rajasthan | 175 |
| 2 | Gujarat | 30 |
| 3 | Madhya Pradesh | 10 |
| 4 | Maharashtra | 46 |
| 5 | Andhra Pradesh and Karnataka | 35 |
According to the IUCN Red List of Threatened Species for birds, the Great Indian Bustard is on the brink of extinction and is now listed as 'Critically Endangered' species. The population of Great Indian Bustard has drastically reduced in the past few years due to several factors such as habitat loss and degradation, and illegal hunting.
Great Indian Bustard has been identified as one of the species under component- "Recovery programme for saving critically endangered species and habitats" of the Centrally Sponsored Scheme 'Integrated Development of Wildlife Habitats', wherein financial assistance is given for recovery programme of the species.Further, the Central Government has constituted a Task Force to formulate an action plan for the conservation of Great Indian Bustard and Florican species in India.
Funds have been released to the Government of Rajasthan for the Desert National Park under the Centrally Sponsored Scheme- 'Integrated Development of Wildlife Habitats' for various activities, including protection of Great Indian Bustard and its habitat. Details of funds released for the Desert National Park during the last three years as well as the current year are as follows:
Name of the Protected Area

Year

Amount released (Rs. in Lakh)

Desert National Park, Rajasthan

2008-09

22.84

2009-10

34.13

2010-11

28.05

2011-12

20.18

Total:

105.2

An inerview with Dr Ashish Ghosh
Farmers' Forum: Till mid-1992, biodiversity was an open access resource – a global common – but it has since become a sovereign rights issue. What has prompted the change and what are its consequences for India?
Asish Ghosh: A critical analysis of the trading patterns of the colonising countries, largely in the tropical, would establish that they were enormously attracted by the living natural resource base of the colonized countries. The entire southern hemisphere, from South America in the west to Australia in the east, became colonised over a 300-year period.
FF : Was there a design behind it?
AG: Well, it would be fair to say that countries from a single continent, Europe, taking advantage of their early industrial revolution and consequent development of science and technology, possibly identified that natural resources in the south could be turned into real profit, first by trading in them in the larger global market and then changing the resources into value-added products. Historic evidence would substantiate this. In India, from 1590, when Vasco Da Gama landed in the Malabar Coast till the mid-18thcentury, five European countries came to the Indian subcontinent and established colonies and four of the five – the Dutch, the Danish, the French and the British – established their own East India Trading Companies and if one looks at the export basket from India, taking for purely trading purposes by these companies, one comes up almost 100 per cent products from living natural resources – whether it be timber or textile or spices and tea. The Portuguese who came first to trade never formed their own company but they did come to collect spices, which the Malabar Coast was very rich in. It continues to be so.
FF : So biodiversity has always been a matter of big bucks?
AG: Yes and India never charged a fair price for the raw material, including medicinal plants and the finest quality of cotton textile fibre. Not only medicinal plants, but even traditional knowhow was taken from the time of Vasco Da Gama's arrival in India in 1592 to 1992, when the United Nations Conference on Environment & Development at Brazil decided that biological diversity in each country would be its sovereign right and, henceforth, the access to biological resources would be governed by the principal of prior informed consent and benefit-sharing.


Link : http://farmersforum.in/agriculture-farming-india/saving-biodiversity-from-bioprospectors-and-biopirates/
---
BIODIVERSITY HOTSPOTS
Megadiverse countries
Australia is one of seventeen countries described as being 'megadiverse'. This group of countries has less than 10% of the global surface, but support more than 70% of the biological diversity on earth.
The concept was first developed by Russell Mittermeier in 1988, as a way to prioritise conservation action. Based on an analysis of primate conservation priorities, he found that four countries accounted for two-thirds of all primate species. The analysis was then expanded to include other mammals, birds, reptiles, amphibians, plants and selected groups of insects.
This resulted in 17 countries being identified, representing more than two-thirds of all (known) life forms and the majority of tropical rainforests, coral reefs and other priority systems. The results of the assessment were published in theMegadiversity: Earth's biologically wealthiest nations (Mittermeier, Gil and Mittermeier eds. 1997. Cemex, Mexico). Find out more about the megadiverse countries.
Megadiverse countries
Australia
The Congo
Madagascar
South Africa
China
India
Indonesia
Malaysia
Papua New Guinea
Philippines
Brazil
Colombia
Ecuador
Mexico
Peru
United States
Venezuela
Australia is home to between 600,000 and 700,000 species, many of which are endemic, that is they are found nowhere else in the world. These include, for example, 84% of our plant species, 83% of mammals, and 45% of birds.
Australia's biodiversity - the plants, animals, micro-organisms and their ecosystems - is threatened from the impacts of human activities. Since European settlement, more than 50 species of Australian animals and over 60 species of Australian plants are known to have become extinct.
Refer to our SPRAT database for listings and details of threatened flora and fauna.
About biodiversity hotspots
Photo: Kevin Watt
Biodiversity hotspots are areas that support natural ecosystems that are largely intact and where native species and communities associated with these ecosystems are well represented. They are also areas with a high diversity of locally endemic species, which are species that are not found or are rarely found outside the hotspot.
The current, planned or potential management activities in hotspots place the natural values at risk, and it is likely this risk will increase in the future in the absence of active conservation management.
Because the natural values of hotspots are largely intact, undertaking action now to maintain these values has the potential to provide value-for-money in contributing to our efforts in biodiversity conservation.
Protecting and maintaining biodiversity hotspots
The Australian Government's $36 million Maintaining Australia's Biodiversity Hotspots Programme focused on action to improve the conservation of hotspots on private and leasehold land. The programme had two delivery components, stewardship payments and voluntary property acquisitions.
Action was also taken at the regional and local scale through the Natural Heritage Trust and the National Action Plan for Salinity and Water Quality. Funding was provided to regions to implement accredited natural resource management plans. A major requirement for accreditation was that plans covered the full range of natural resource management issues, including biodiversity conservation.
The Australian Government's Threatened Species Scientific Committee, with input from experts in biodiversity conservation from the states and territories, identified 15 hotspots across Australia.
Conservation International has identified 31 international biodiversity hotspots. These areas support as endemics no less than 44% of the world's plants and 35% of terrestrial vertebrates. As well as looking at endemic species, international hotspots have also lost at least 70% of their original extent.
National biodiversity hotspots
The Australian Government announced 15 national biodiversity hotspots in October 2003. Whilst international biodiversity hotspots have been identified for some time, this was the first attempt to identify biodiversity hotspots at the national scale.
Photo: Kevin Watt
The national hotspots were identified by the Australian Government's Threatened Species Scientific Committee.
The Committee held a workshop and invited biodiversity experts, including representatives from conservation groups, museums and the states and territories.
The identification of biodiversity hotspots was a two-stage process. The experts first identified areas with many endemic species. They then assessed each of these areas for current conservation pressures and the possibility of future threats to biodiversity. Areas with many endemic species where the levels of stress or future threat were considered to be high were identified as hotspots.
The hotspots were identified to increase public awareness of the cost-effectiveness of strategic and timely action to conserve biodiversity. In hotspot areas, timely intervention may prevent long-term and irreversible loss of their values, and provide high return on our conservation dollar.
These 15 areas are examples of locations that contain particularly high levels of biodiversity under threat.
International biodiversity hotspots
Conservation International, a nonprofit environmental organisation based in Washington DC, has identified 31 biodiversity hotspots around the world, including one in the southwest of Western Australia.
The Australian Government provided $10 million over three years through the Regional Natural Heritage Programme to fund non-government organizations and other agencies to protect outstanding biodiversity in hotspot areas of South-East Asia and the Pacific.
The Biological Diversity Act 2002
---
NEW HOT SPOTS FOR FISH INDUSTRY
Teeming with millions of species, tropical coral reefs have been long thought to be the areas of greatest biodiversity for fishes and other marine life—and thus most deserving of resources for conservation.
But a new global study of reef fishes reveals a surprise: when measured by factors other than the traditional species count—instead using features such as a species' role in an ecosystem or the number of individuals within a species—new hotspots of biodiversity emerge, including some nutrient-rich, temperate waters.
The study, by an international team of researchers including graduate student Jon Lefcheck and Professor Emmett Duffy of William & Mary's Virginia Institute of Marine Science, appears in this week's issue of the journal Nature.
Led by Dr. Rick Stuart-Smith of the University of Tasmania's Institute for Marine and Antarctic Studies, the study team also includes researchers from Stockholm University, the University of Bologna, Stanford University, the Natural Products and Agrobiology Institute in Tenerife, Spain, the Wildlife Conservation Society's Indonesia Marine Program, the University of Dundee, the Pontifical Catholic University of Chile, and the University of Portsmouth.
The study is based on information collected through the Reef Life Survey program, a 'citizen science' initiative developed in Tasmania. The RLS program now operates worldwide, training recreational SCUBA divers to survey numbers of reef animals and supporting their research endeavors.
Stuart-Smith and fellow RLS founder Graham Edgar, also a University of Tasmania professor, highlight the central role the volunteer divers played in contributing to the new study. "The assistance of over 100 dedicated divers has allowed us to look at ecological patterns and processes impossible for scientific dive teams to cover," says Edgar.
Species richness
The number of different species in an ecosystem—what researchers call "species richness"—has dominated the scientific view of global biodiversity patterns since the days of Darwin and Linnaeus. It has also long been used as a biological basis for management of imperiled ecosystems.
But, says Lefcheck, "Just counting species is a really coarse way of understanding diversity. By gathering information on the animal's traits—what they eat, how they move, where they live—we can understand more about how dissimilar they are. Dissimilarity is the essence of diversity."
Lefcheck illustrates the team's new approach to studying biodiversity by reference to a tide pool. "Consider a pool with a fish, a bird, and a crab," he says. "Now consider one with three fishes. Which is more diverse? Intuitively, we know it's the one with the fish, bird, and crab. But until recently, ecologists treated each of them as equally diverse, since they both have the same number of species."
"Most biodiversity censuses simply count species because it's relatively simple to do," says Duffy. "But to understand how species help ecosystems work, we need to know how abundant they are and what they're doing. That sounds obvious but such data are much harder to get. Ours is the first study to do this comprehensively, and we find that the extra knowledge paints a very different map of global diversity."
Functional Traits
The team conducted their study by analyzing data from 4,357 standardized surveys conducted by volunteer RLS divers at 1,844 coral and rocky reef sites worldwide. The surveys spanned 133 degrees of latitude and found 2,473 different species of fish.
Moving beyond traditional species counts, the research team noted how the members of each of these species make a living, using a detailed matrix of "functional traits." These include what the fishes eat (plankton, invertebrates, algae, other fish, or a combination), how they eat it (browsing, scraping, or predation), where they live (in, on, or near the bottom, attached, or free-swimming), whether they are active at night or during the day, and how gregarious they are (solitary, paired, or schooling).
"Determining the biology and ecology of these fishes—noting what they do and how they do it—alters hotspots of diversity," says Lefcheck. "Coral reefs remain the most species-rich habitats on earth, but a trait-based view reveals new areas where the diversity of ways in which fishes function is even higher."
"Functional biodiversity is highest in places like the Galápagos with only moderate species counts," adds Duffy, "whereas functional biodiversity is low in many classical hotspots with high species counts, such as the iconic coral triangle of the west Pacific."
Lefcheck notes that the team's study also looked at how individuals are distributed among species—what scientists call "evenness," and that doing so further alters global diversity patterns.
"Coral reefs have lots of species but most individuals are doing largely the same thing, whereas temperate reefs with many fewer species tend to have individuals spread out more evenly among species that are doing different things," he explains.
The team's findings have important implications for planning and management. Lead author Stuart-Smith notes, "Incorporating information on functional traits into monitoring programs will add an extra dimension and greater ecological relevance to global efforts to manage and conserve marine biodiversity."
Says Lefcheck, "Loss of species in a community in which all species are doing different things may have greater consequences, since each species plays a unique role that can't be filled by any other species. Investing resources in conserving the most non-redundant—and therefore vulnerable—communities may have the greatest impact."COURTESY
---
What is covered by the Biological Diversity Act?
The Act covers conservation, use of biological resources and associated knowledge occurring in India for commercial or research purposes or for the purposes of bio-survey and bio-utilisation. It provides a framework for access to biological resources and sharing the benefits arising out of such access and use. The Act also includes in its ambit the transfer of research results and application for intellectual property rights (IPRs) relating to Indian biological resources.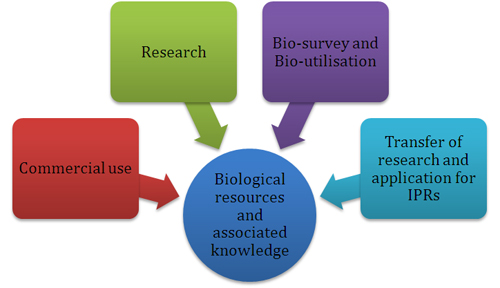 Who is covered by the Biological Diversity Act and what do they require?
The Act covers foreigners, non-resident Indians, body corporate, association or organization that is either not incorporated in India or incorporated in India with non-Indian participation in its share capital or management. These individuals or entities require the approval of the National Biodiversity Authority when they use biological resources and associated knowledge occurring in India for commercial or research purposes or for the purposes of bio-survey or bio-utilisation.
Indians and Indian institutions do not require the approval of the National Biodiversity Authority when they engage in the above mentioned activities. However they would need to inform the State Biodiversity Boards prior to undertaking such activities. However, any commercial application related to use of biological resources should be approved by the Authority.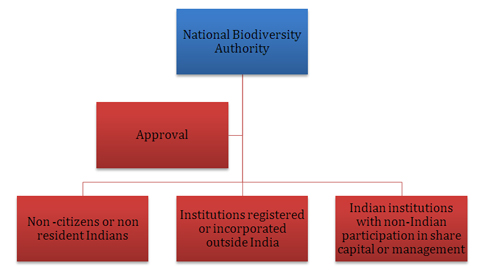 Who and what is excluded by the Biological Diversity Act?
The Act excludes Indian biological resources that are normally traded as commodities. Such exemption holds only so far the biological resources are used as commodities and for no other purpose. The Act also excludes traditional uses of Indian biological resources and associated knowledge and when they are used in collaborative research projects between Indian and foreign institutions with the approval of the central government.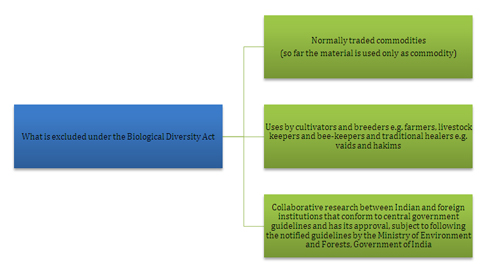 What is the National Biodiversity Authority required to do when it receives an application for approval to use Indian biological resources and associated knowledge?
The National Biodiversity Authority shall give approval, based on agreement with State Biodiversity Boards (SBBs), only after establishing mutually agreed terms and an equitable benefit sharing agreement between the users of the biological resources and associated knowledge and concerned local bodies and benefit claimers.
What are the consequences of lack of compliance with the Biological Diversity Act?
In cases where an approval of the National Biodiversity Authority is required for the use of Indian biological resources and associated knowledge and such approval is not obtained, the punishment can extend to five years imprisonment or a fine of ten lakh rupees or both.
In cases where the State Biodiversity Board needs to be intimated about the use of Indian biological resources and associated knowledge and this is not done, the punishment can extent to three years imprisonment or a fine of five lakh rupees or both.
Any offence under the Act is cognizable and non-bailable.
Relevant definitions for the purposes of the Biological Diversity Act:
Biological resources: means plants, animals, microorganisms, genetic material and by-products of value but excluding human genetic material.
Bio-survey and bio-utilization: means survey or collection of species, sub-species, genes, components and extracts of biological resources for any purpose including for characterisation, inventories and bioassay.
Benefit claimers: means conservers of biological resources and their by-products and creators and holders of knowledge relating to the use of such biological resources.
Commercial utilization: means using biological resources as drugs, industrial enzymes, food flavours, fragrances, cosmetics, emulsifiers, oleoresins, colours, extracts and genes used for improving crops and livestock through genetic intervention.
FAQ
FREQUENTLY ASKED QUESTIONS ON THE BIOLOGICAL DIVERSITY ACT, 2002
What is the Convention on Biological Diversity

What is the origin and history of the CBD

Explain the salient features of the CBD

The main objectives of the Convention are:

We already have a number of Acts relating to forestry, wildlife etc. Why do we need this legislation on biodiversity?

India's richness of biodiversity

Name the mega biodiversity countries

Why it has taken more than five years to prepare legislation?

Could we not have developed such legislation without the CBD?

What does the Biodiversity Act - 2002 primarily address?

What are the structures of Biodiversity Act - 2002

Will this legislation become another bureaucratic hurdle?

Is there any overlap in the functions of NBA and SBB?

Will this legislation affect research in biological resources?

Will this legislation impact collaborative research projects?

Do Indian researchers require approval for obtaining biological resource for research purposes?

How will the proposed legislation check biopiracy?

Does the legislation provide for any exemptions?

What is the reason for bringing the body corporates, associations or organizations incorporated or registered in India with any non-Indian participation in its share capital or management under the provisions section 3?

Why value added products have been excluded from the definition of biological resources?

What is implied by value added product? Can you give few examples?

Does the Indian industry require prior approval of the SBB?

Whether the legislation on biodiversity would come in the way of development of Ayurvedic industry and would it jeopardize the health care delivery systems and affect international trade?

India has several practitioners of Indian systems of medicines who use herbs etc, for medicine and healthcare. Will such use be affected by the legislation?

Will this legislation affect the use of bio-resources by local people?

How the concept of prior informed consent (PIC) with the concerned local people will be formalized in the proposed legislation?

Does the legislation provide for protection of traditional knowledge? If yes, how?

Who are the benefit claimers?

What kinds of benefits are envisaged under the benefit sharing arrangement approved by the NBA?

To whom will the monetary benefits be given?

Examples of bio resources used for commercial utilization

Is there any overlap between Biodiversity Bill and Plant Varieties Protection Act?

Why an exemption has been provided in Section 6(3) of the Biodiversity Bill for applicants seeking protection under the PVP Act.

Is there any overlap between the Biodiversity Bill and Patents (second Amendment) Act 2002?

Why an exemption has been provided for patent seekers in section 6(1) of the Biodiversity Bill?

What is the concept of Heritage sites? How are they different from Protected Areas?

Will the provisions of Section 37 on biodiversity Heritage Sites not duplicate the existing protected areas?

How does the Bill address the concern relating to threatened species?

What is rationale behind establishing repositories

For answers visit http://nbaindia.org/content/19/16//faq.html

State Biodiversity boards of India
A wiki resource of indian biodiversity

Biodiversity parks videos
1MINISTRY OF NATURAL RESOURCES & ENVIRONMENT POLICY STATEMENT ON BIOLOGICAL DIVERSITYName of policy National policy on the conservation of biological diversity (or biodiversity) Purpose To provide the framework for the conservation, sustainable use and management of Samoa's terrestrial and marine biodiversity including the protection of endemic and native species and the control of invasive species. Introduction Samoa's natural heritage has maintained and improved both the social and economic wellbeing of its people through generations. Biodiversity is present in all facets of Samoan life, from providing the resources needed for food and shelter, medicinal plants to care for the health of the nation and more importantly supporting the faaSamoa (Samoan way). Over generations this relationship was premised on the understanding that the Samoans would utilise these resources in a sustainable manner. With appropriate measures being taken improved village-based resource management and protection efforts will help bring about sustainability in the long-term.
Nevertheless with the change from subsistence to a commercial economy and from villagebased to government-driven management the 'culture of care' the Samoans once had for their environment is rapidly eroding. The inevitable changes in people's lifestyles due to growing exposure to globalisation as well as increased population competing for limited remaining resources have imposed greater demands on a fragile environment with finite natural resources.
Furthermore the impacts of climate change on small island developing states, like Samoa, with the associated devastating consequences of frequent tropical cyclones with increased severity, droughts and flooding make the protection of island biological resources even more difficult. To address the existing problems facing Samoa's biodiversity a merging of new approaches with traditional techniques is needed along with closer collaboration among national, regional and international stakeholders. This policy supports the Strategy for the Development of Samoa 2005-2007 focusing on improved economic and social welfare for all the people of Samoa. It promotes the creation of the enabling environment for sustainable development and requires the management of biodiversity and genetic resources to be integrated into social-economic planning in order to minimise the adverse impacts of development on the environment. It also demands the strong participation of local communities in the planning and implementation of relevant actions for the sustainable management of national biodiversity resources.
Vision
Samoa's biodiversity resources are protected, conserved and sustainably managed so they will continue to flourish and regenerate to support better livelihoods for all stakeholders at the present time and in the future. 2There are two main components of Samoa's biological diversity. One is the terrestrial biodiversity comprising all organisms with land-based habitats including freshwater resources as well as all types and forms of plants which provide habitats for birds. Terrestrial biodiversity provides traditional medicines and products and supports a wide diversity of plans and animal species. It also serves as a major attraction for wilderness and nature adventure as well as eco-tourism. The diversity of different types of organisms and animals all contribute in different roles and functions to maintaining balanced ecosystems. The other is the marine biodiversity which supports a diversity of marine species and ecosystems such as coral reefs, seagrasses and mangroves. These ecosystems offer natural protection against storm surges and coastal flooding. Marine resources have been critical to the Samoan way of life, providing a major source of protein for people as well as family cash incomes. Marine protected areas have been established to improve the status of degraded areas for the benefit of coastal communities. Fisheries, particular inshore, play a vital role in the economy of Samoa and contributing significantly to the health and nutrition of its people.
Issues, constraints and opportunities
Issueso Over harvesting and overexploitation of terrestrial and marine resources. o Clearance of forest for agriculture development o Impact of unsustainable development practice o Unsustainable use of natural resources o Impact of climate change and sea level rise o Impact of invasive species o Destructive fishing and land use practices o Land tenure (ownership and usage rights) o Development versus conservation (balance between the two), and o Lack or limited public awareness and education on sustainable development.
Constraintso Lack of qualified skilled personnel o Sustainability of human resources development o Limited community and public support or participation o Lack of research and scientific studies o Lack of financial resources o Impacts of climate change o Land degradation due to poor land use practice, and o Balance between meeting Samoa's development needs and the capacity of its natural resources to sustain now and in the future.
Opportunitieso Access to the use of biological resources o Enhance rural livelihoods through better use of terrestrial and marine resources o Provide ongoing ecosystem benefits and services o Support life for mankind o Provide scientific and research opportunities o Increased awareness on the values of biodiversity and genetic resources o Strengthened stakeholder capacity for sustainable management o Improved quality of data for planning and decision making. 3o Income generating activities from access to and benefit sharing of biodiversity and genetic resources, and o Protection of national biodiversity for the benefit of future generations
Implementing agency Ministry of Natural Resources and Environment (MNRE)
Roles of the key stakeholdersMinistry of Agriculture and Fisheries (MAF) - collaborates with the MNRE to implement some of the strategies in this policy in particularly the management of invasive species. The MAF Quarantine Division is responsible for controlling the border at the first point of entry to ensure the protection of Samoa from the introduction of unwanted species. Some of the strategies identified in the policy will be implemented by the MAF Fisheries Division in collaboration with the MNRE. These include the rehabilitation programs and activities for degraded ecosystems as well as monitoring and assessing the status of marine protected habitats.
Ministry of Women, Community & Social Development – assists MNRE through its Internal Affairs services to follow the proper channel of line of communication when implementing some of the strategies in this policy where community support is needed. Some of the projects that involve the community participation will need the full support from the village councils and the different levels of the community.
Ministry of Education, Sports & Culture - promotes public awareness through education curriculum, the MNRE will create public awareness materials to help with presentations on values and importance of protecting and conserving terrestrial and marine biodiversity and supporting sustainable use of natural resources. Samoa Tourism Authority - assists the conservation and sustainable use of biological resources to ensure long term availability to support eco-tourism and improve Samoa's environment as a source of tourist destination for economical benefits. The National University of Samoa – collaborates with MNRE through promoting biological research nationally and to engage research students in conducting scientific research studies and monitoring.
University of the South Pacific – collaborates with the MNRE in biological research to promote conservation and sustainable management and use of biological diversity. Samoa Umbrella for Non Governmental Organisation – works closely with MNRE to promote conservation and sustainable use of terrestrial and marine biological resources. Other national government institutions – the following support to implementation of the policy to strengthen the enabling environment for the sustainable management of terrestrial and marine biodiversity: -Ministry of Foreign Affairs & Trade -Ministry of Commerce, Industry & Labour -Office of the Attorney General -Ministry for Revenue – Department of Customs -Ministry of Works, Transport & Infrastructure -Samoa Water Authority - Research and Development Institute of Samoa

Goals and principles
This policy aims to benefit all citizens of Samoa in perpetuity from the sustainable management of natural resources and the environment. Implementation of the policy will enable local people to engage in the protection and conservation of biological diversity in 4order to get benefit directly and indirectly from the sustainable use of terrestrial and marine biodiversity, and promote equitable sharing of the benefits arising out of the utilization of genetic resources.
This policy is guided by the following principles: Samoa's sovereign right - Samoa has sovereign rights over her biological diversity and resources. Good governance and leadership - the Government of Samoa takes the leading role to ensure the protection, conservation and sustainable management of our biodiversity, through effective governance and leadership and in full consultation with all stakeholders. Precautionary principle - in order to protect Samoa's biodiversity an appropriate and effective application of precautionary principle should be widely applied in all areas and at all levels of environmental decision making for conservation and sustainable development. The precautionary principle states that those proposing any development/activity have to prove that it would not cause serious or irreversible impacts and the lack of scientific certainty shall not be used as reason to allow it. Collective responsibility - all residents and visitors have an individual and collective responsibility to protect, conserve and sustainably utilize our biodiversity and its resources, for the benefit of present and future generations. Traditional knowledge, practices and innovations - Samoan traditional knowledge, innovations and sustainable practices which are important for the protection and conservation of biodiversity, should be fully recognized, preserved and maintained. Public awareness and capacity building - public awareness, education and the strengthening of local capacity are essential for the protection, conservation and sustainable use of biodiversity. Va tapuia - this is the faaSamoa concept of covenant or relationship between people and their environment, which originates from the idea of feagaiga (relationship between brother and sister). It has been widely acknowledged within and incorporated into the quest for conserving Samoa's environment.
Key objectives and strategies
1. Pubic awareness and educationObjectives Strategies o Promote public awareness, education and understanding of the nature of Samoa's biodiversity and the threats to its long-term integrity o Inform all stakeholders on the provisions of national policies and legislations ¾ Strengthen stakeholder understanding and public awareness through educational and awareness raising programmes such as seminars, workshops and training courses and encourage community participation in public awareness programmes. ¾ Increase media campaigns through television, websites, radio, and newspapers, documentaries, school quizzes/competition, video presentations to increase public awareness and education ¾ Promote national awareness events such as the National Biodiversity Awareness Day ¾ Provide educational and awareness raising aids/kits and materials to support school curricula ¾ Focus on special target groups such as women, youth and students ¾ Develop and implement awareness programmes to make the general public fully aware of various 5policies and legislation in place on biodiversity ¾ Review the National Biodiversity Strategy and Action Plan in line with current policies and practice ¾ Enforce the Environmental Impact Assessment Regulations to minimise the adverse impacts of developments on biodiversity and the environment
2. Capacity buildingObjectives Strategies o Improve/upgrade technical and scientific skills of staff o Collect, analyse and disseminate information o Conduct stakeholder training on sustainable development skills o Implement community-based projects to pilot conservation options and management o Promote transfer of skills and technology to support sustainable development ¾ Conduct training programmes for community on principles of and good practice for the sustainable use of biodiversity and genetic resources ¾ Conduct MNRE staff training ¾ Assess current capacity to identify urgent capacity building needs and priorities ¾ Compile inventories of marine and terrestrial biological resources ¾ Upgrade and manage databases for storing, analysis and dissemination of biodiversity and genetic resource information to all stakeholders ¾ Review the state of the environment reports and environmental statistics and make available to the public and stakeholders ¾ Carry out pilot projects to acquire necessary skills and experience on biodiversity management ¾ Collect and document information on traditional knowledge and practices on biodiversity use, e.g. medicinal and food use ¾ Engage qualified personnel to analyse information and conduct studies and research on biodiversity ¾ Strengthen consultative and collaborative linkages between the MNRE and stakeholders on the sustainable management of biological resources ¾ Ensure that research conducted in Samoa would have copies available to the MNRE ¾ Develop monitoring and assessment systems ¾ Secure resources for biodiversity conservation projects ¾ Strengthen the legislation to facilitate biodiversity research and development
3. Conservation of biological diversity and genetic resources
Objectives Strategies o Encourage community participation in the ¾ Protect critical biodiversity resources and habitats ¾ Rehabilitate degraded ecosystems by engaging 6conservation of biodiversity o Develop global partnerships to support national conservation efforts o Strengthen environmental planning to reduce the adverse impacts of development on the environment o Control pests and invasive species to reduce their adverse impacts on the native biodiversity o Monitor the introduction of genetically modified organisms to minimise any harmful effects on native biodiversity o Undertake research to monitor the state of biodiversity and where required implement recovery plans for species sustainability community support ¾ Promote community participation in and support for the establishment of sanctuaries, national reserves, protected areas and community conservation areas ¾ Establish agreements between government and communities over the protection of biodiversity and genetic resources ¾ Strengthen legislative provisions on the protection and conservation of biodiversity ¾ Enforce compliance with the sustainable management of biodiversity and genetic resources ¾ Provide relevant data for planning and informed decision-making ¾ Adopt standards aimed at mitigating potential threats to biodiversity ¾ Develop management plans to guide activities on biological resources ¾ Conduct environmental impact assessments and biological surveys of development activities affecting biodiversity ¾ Carry out economic valuation of biodiversity and genetic resources to support management efforts ¾ Develop and strengthen international and regional networks through transfer of skills and technology ¾ Strengthen the implementation of the Convention on Biological Diversity ¾ Explore linkages to other international conventions and protocols namely: - Ramsar Convention on Wetlands of International Importance, especially as Waterfowl Habitat, - Bonn Convention on the Conservation of Migratory Species of Wild Animals - Convention on International Trade in Endangered Species of Wild Fauna and Flora - Convention for the Protection of the World Cultural and Natural Heritage ¾ Develop linkages with regional conventions and arrangements namely: - Convention for the -Protection of the Natural Resources and Environment of the South Pacific Region- Regional agreement on the protection of migratory species¾ Secure and maintain donor support for project implementation ¾ Ensure the security of native biodiversity by addressing the potential and established impacts of alien invasive species 7¾ Finalise the National Invasive Species Action Plan to facilitate and coordinate invasive species programmes ¾ Develop programmes for the prevention, eradication and control of invasive species e.g. merrimia peltata and rat ¾ Develop research programs to continue gathering baseline information on the status of marine invasive species ¾ Strengthen collaboration with the Quarantine Division of MAF to enforce border control/security services to prevent the entry of species that are harmful or potentially harmful to the environment ¾ Coordinate periodical monitoring assessments of invasive species and non target species. Establish bio-security systems to protect endemic species and native resources ¾ Enforce compliance with legislation to control the importation of plants, animals and genetic resources ¾ Develop recovery plans and implement activities for the protection and conservation of Samoa's biodiversity and threatened species ¾ Undertake biological surveys of Samoa's freshwater resources ¾ Develop long term programs for monitoring of species recovery e.g. Maomao & Manumea ¾ Develop programme for monitoring the impacts on biodiversity from climate change ¾ Establish and undertake monitoring programmes for threatened species and work collaborative with IUCN to produce Samoa's Redlist of threatened species to document for international recognition ¾ Develop programs to determine the status of Samoa's seabird population/colony 4. Sustainable use of biological resourcesObjectives Strategies o Protect traditional knowledge and practice in biological resources o Develop appropriate business opportunities in the environment sector e.g. eco-tourism and leisure o Undertake research in genetic resources for economic ¾ Encourage active community participation in biodiversity programmes regarding access to genetic resources and benefit-sharing ¾ Identify and promote investment in the utilisation of biodiversity and genetic resources ¾ Establish mechanisms for equitable access to and benefit-sharing of genetic resources ¾ Establish new national parks and reserves, protected areas and community conservation areas 8development o Promote access to and benefit sharing of biodiversity and genetic resources to protect biodiversity ¾ Conduct research and develop a national register to document and preserve traditional knowledge, practices and innovation important for the conservation of biodiversity ¾ Develop sui generic legislation to protect Samoan traditional knowledge, practices and innovation and to provide benefit sharing mechanisms for appropriate knowledge holders ¾ Encourage integration of modern science and technology with traditional knowledge, practices and innovation to promote the conservation and sustainable use of biodiversity ¾ Document and preserve traditional knowledge, customs and practices relevant to the protection, conservation and sustainable use of biodiversity ¾ Identify and develop appropriate initiatives to promote sustainable income generating activities. (e.g. handicrafts, ecotourism, non timber forest products, food, medicinal use, nurseries, whale/dolphin watching) ¾ Establish a stakeholder network including donor agencies to support income generating activities Implementation Following approval of the policy by the Cabinet Development Committee the MNRE will coordinate its implementation in line with the government priorities and available resources. Some of the strategies are expected to take a number of years to be fully implemented. The government will seek donor assistance through the implementing agency, MNRE where appropriate to assist with the implementation of the policy. The MNRE will monitor the policy implementation and it will be reviewed every five years. Definitions biological diversity (biodiversity) – the variability among living organisms from all sources including inter alia, terrestrial, marine and other aquatic ecosystems and the ecological complexes of which they are part; this includes diversity within species, between species and of ecosystems. bioprospecting - the search among biological organisms for commercially valuable compounds, substances or genetic material. sustainable development means promoting development at a rate and in such a way as to ensure that the quality of the environment and the supply of resources is maintained and, wherever practicable, enhanced to meet the needs of the present generation without compromising the needs of future generations. border control - the enforcement of policies and actions to prevent the accidental or illegal introduction of unwanted organisms across national borders. Border control also includes re-import of pest control, certification, inspection and surveillance and emergency responses. ex-situ conservation - conservation of components of biological diversity outside their natural habitats. 9in-situ conservation - conservation of ecosystem and natural habitats, the maintenance and recovery of viable populations of species in their natural surroundings. invasive species - an animal or plant that can adversely affect indigenous species and ecosystems by altering genetic variation within species, or affecting the survival of species, or the quality or sustainability of natural communities. In Samoa, invasive animal and plant species are almost always species that have been introduced to the country (an exception is merremia, a native plant that has become invasive outside its normal habitats due to forest canopy disturbance).
sourcehttp://www.mnre.gov.ws/documents/policies/Policy - Biodiversity.pdf

National invasive species action plan
Executive Summary Invasive species are one of the greatest threats to Samoa's natural heritage. In fact the impacts of invasive species are immense, costly and usually irreversible and are being increasingly felt in Samoa. Impacts can range from adversely affecting the productivity and subsequent economic output of primary industry, such as agriculture, forestry and fisheries, to impeding cultural practices and traditions, household food security and sustainable livelihoods, and threatening the integrity and biodiversity of natural ecosystems, including vital ecosystem processes.
Samoa's National Invasive Species Action plan (NISAP) is Samoa's response to the threat from invasive species and sets out the framework and identifies the key initial actions that need to be undertaken to effectively assess and manage the threat and impacts of new and existing invasive species in Samoa. The actions have been prioritised, with timeframes and identification of the lead agency/group and relevant partners that will be involved in implementation.
The magnitude of the threat to Samoa from invasive species has been recognised in Samoa's National Biodiversity Strategy and Action Plan (NBSAP). The NISAP builds on the actions identified in 'Theme 6 – Biosecurity' of the NBSAP, as well as elements of Themes 1, 2, 3 and 7, and pursuing the following objective: To protect Samoa's native biodiversity from the impacts of invasive species, through effective border control and quarantine, and the development and implementation of effective eradication and management programs.

The NISAP is based on four key elements:

• Developing a strategic approach to the management of established invasive species; • Improving the knowledge and understanding of key stakeholders and the wider public of invasive species and their impacts; • Preventing the introduction and establishment of potential invasive species; and • Fostering regional and international cooperation and collaboration.

Actions such as these need to be supported by building, at all levels, the capacity of government, the community and other agencies to better prevent and manage the risk of invasive species, such as through appropriate training and providing adequate resources. This is an important element highlighted throughout the action plan and is consistent with the Guidelines for Invasive Species Management in the Pacific being developed for future endorsement by SPREP members.

Since 2002 the Division of Environment and Conservation (DEC) of the Ministry of Natural Resources and Environment (MNRE) has taken the lead in developing this action plan. Recognising that a response to the serious issue of invasive species requires a cooperative approach, the action plan has been developed through a widely consultative process, incorporating the views of key stakeholders through the establishment of a National Invasive Species (NIS) Steering Committee, and more recently, the Samoa National Invasives Task Team (SNITT).

This action plan was formulated through a multi-sectoral consultative process involving representatives of various in-country governmental and non-governmental organisations as well as national and international experts. In particular, advisory services were given by representatives of various intergovernmental and Bilateral Aid organisations in the Pacific: the Worldwide Fund for Nature, the Secretariat of the Pacific Regional Environment Programme (SPREP), the Secretariat for the Pacific Community (SPC), the United Nations Development Programme (Apia Office), Conservation International's Pacific Islands Program (CIPIP), the Pacific Invasives Learning Network (PILN), the Japan International Cooperation Agency (JICA) and AusAID-funded volunteers (Australian Youth Ambassadors for Development Program). -4-
Adequate resource, in the form of funding, personnel and infrastructure, is one of the most crucial elements to the success of this action plan. Among the activities already funded by local budgets are quarantine services under the Ministry of Agriculture and Fisheries and MNRE has provided for the development of a biodiversity database and field research of management techniques for Merremia. Further funding from external sources has been secured for freshwater and marine port surveys, myna bird management trials, a rattan eradication project and research on the management of invasive weeds in the Mt Vaea reserve. However, a significant increase in funding and resources is needed to even begin to adequately implement this plan and it is hoped that all partners, including the donor community, will play their part in ensuring that the various elements on the action plan are well funded.

It is intended that this action plan be owned and driven by the Samoan community. This is a living document, to be reviewed annually and revised every three years through a consultative process, and will therefore continue to evolve over time.
0 Comments