Cost of solar water heater in India, list of manufacturers of solar water heaters in india, channel partnres, mnre approved manufacturers of solar water heaters
TABLE OF CONTENTS
1.LATEST NEWS AND VIEWS
2.WHAT IS SOLAR WATER HEATER
3.TYPE OF DESIGN PROTECTION
4.TPES OF SOLAR WATER HEATING SYSTEM
5. TYPES OF COLLECTORS
6.ECNOMICS VIABILITY COST OF SOLAR WATER HEATERS
7.CONSTRUCT YOUR OWN SOLAR WATER HEATER DIY
8.SPECIFICATIONS AND INSTALLATION PROCESS
9. LIST OF SOLAR WATER HEATER COMPANIES IN INDIA
10. INTERNATIONAL STANDARDS AND LOSSES IN THE SOLAR WATER HEATERS
---
* New efficient easy to install solar water heater
The Affordable Solar Project (ASP) is seeking to make efficient, easy-to-install solar water heaters that are affordable enough to make them a real option for the majority of the population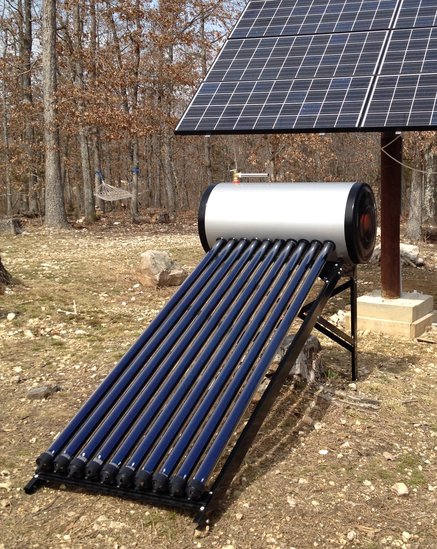 The heaters consist of vacuum tubes that track the sun across the sky contained within a unit that can be mounted on either angled or flat surfaces. The tubes direct the sun's radiation to an internal heat pipe which acts as a solar energy absorber. The solar energy is then transferred to a workable vapourizable fluid which rapidly rises to a condenser at the top of the heat pipe. This transfer the heat to water in the tank. As the heat is lost, the vapour condenses into a liquid and returns to the bottom of the heat pipe and the cycle starts all over again.
The unit incorporates a pressurized system which ensures strong water flow and refills automatically. Since there is no water inside the tubes, there is no danger of freezing and because each tube is a self-contained loop if one of them breaks the rest of the unit can continue to operate efficiently. The heaters don't require a controller, circulation pump or a feeder tank and have been designed to be cheaper and easier to install than separated collector and tank units. They can heat water in all climates, even in below-freezing ambient temperatures and an insulated tank retains collected heat for up to 72 hours. The plug-and-play design ensures immediate production of piped hot water from the sun. more..
*Nagpur Municipal Corporation to provide solar water heaters at 50% subsidy
The Nagpur Municipal Corporation (NMC) will distribute 3,450 solar water heaters as the first step under the Model Solar City Project. The beneficiaries will get solar water heater with capacity of 125 litres per day for only Rs 7,400 as 50% subsidy will be funded by the Central government.
The NMC electrical department has completed the tendering process and selected three companies to provide the solar water heaters. The rate has been finalized at Rs 14,800 per unit. The NMC, with the help of funds sanctioned by the Ministry of New and Renewable Energy (MNRE), will contribute the remaining 50% amount, benefiting 3,450 citizens.
The NMC electrical department has tabled the proposal before the standing committee, seeking approval for the price, companies and process to select the beneficiaries. The approval is likely to be given in the meeting to be held on February 5. According to the proposal, 345 beneficiaries each will be selected from the 10 zones. Applications will be invited zone-wise. In case more than 345 are applications are received from each zone, the beneficiaries will be selected through a lucky draw.
A senior NMC official told TOI that Rs 18.67 lakh were received from the government for the Model Solar City Project while additional Rs 1.92 crore have been sanctioned. "Distribution of solar water heaters will be the first scheme under Model Solar City Project. The heater costs around Rs 19,000 in the market while NMC will provide it for just Rs 7,400, which also includes installation cost. The heater, total 2.30 sq mt in size, is of very good quality," he said.
The official added that the beneficiary will be able to save over 90 units electricity per month after installing the solar water heater. "Solar heater saves 3.5 unit per day for a family of four," he said.
After distribution of solar water heaters, the NMC will undertake task of replacing old and high power consuming electrical appliances with new and energy efficient ones at NMC administrative offices, schools and other establishments under the pilot project. The main motive behind the Model Solar City Project worth Rs1,453.10 crore is to bring down the city's power consumption by 10%, including 5% through energy efficiency works and remaining 5% through generation of renewable energy.courtesy:toi
---
*MNRE LAUNCHES :Extract from online application of Solar water Heater Installations (SOLARWHIN)
Extract from SOLARWHIN Application
*SOLAR WATER HEATER THE NEW GRID BATTERY???!!
The household electric water heater, long a quiet partner in utility demand response programs, is going through a series of makeovers that just might turn it into tool that can match the challenges happening at the edge of the grid.
Some of this work involves cutting-edge pilot projects, seeking to create virtual batteries from thousands of water heaters tied together in fast-reacting, grid-responsive control systems. Canada's PowerShift Atlantic project, or the U.S. Department of Energy-backed Pacific Northwest Demonstration Project, are good examples of this approach. more..
Emmvee Solar Launches Solar Water Heater Range
The company claims that their Solarizer Ultra system will combine the benefits of Emmvee's glass enameled tank technology with a heat exchanger system to provide a solution for consumers in hard water areas.
Considering the growing demand for high-pressure solutions and the brunt of hard water in homes, Emmvee Solar, manufacturer of solar water heaters in India, in a joint venture with Solarcap Denmark, has announced the launch of a new range of its Solarizer brand.
http://www.efytimes.com/e1/fullnews.asp?edid=102993
Marketing Solar water Heaters
The report,"Opportunity in the Indian Solar Water Heaters Market" provides an insight into the Indian Solar Water Heater market scenario, structure and practices. In depth market scenario includes current market size estimates, market splits by regions. Market structure details the value chain, player categories, product ranges, key players' presence across products. Market practices include understanding the Indian Solar Water Heater market business, market trends, distribution practices and pricing.

The report also provides a snapshot of key competition, past market trends with forecast over the next 5 years, anticipated growth rates and the principal factors driving and impacting growth.
http://www.yourindustrynews.com/opportunity in the indian solar water heaters market_87738.html
Price of Solar water heater in India
The cost of solar water heater consists of cost of collector, tank and bracket of supporting (Piping etc.). As per MNRES upper limit of cost of solar water heating system with 5 years warranty is as detailed:-
For ETC based Systems,

System Capacity in LPD No.of Tubes Upper cost limit (Rs.)

--------------------------------------------------------------------------------

50 7 7125

75 11 10875

100 14 13500

200 28 26250

250 34 31875

300 40 37500

400 52 48750

500 64 60000

600 to 2000 12 tubes per Rs.905/- per tube

100 lpd

2100 & above 12 tubes per lpd Rs.750/- per tube
For FPC based systems,
System capacity Collector area Upper cost limit

(in LPD) (in sq.m) (Rs.)
-----------------------------------------------------------------------------------------------------
50 - -
75 - -
100 2 20000
200 4 38500
250 - -
300 6 55000
400 8 71500
500 10 88000
600 to 2000 2 sq.m.per 100 lpd 16000 per collector
2100 & above 2 sq.m.per lpd 13000 per collector

Upper limit of cost of solar water heating system to be financed by banks:

For ETC based Systems:

system capacity in LPD No.of tubes Upper cost limit
--------------------------------------------------------------------------------------------------------
50 7 9500
75 11 14500
100 14 18000
200 28 35000
250 34 42500
300 40 50000
400 52 65000
500 64 80000
600 to 2000 12 tubes per 100 lpd Rs.1207/- per tube
2100 & above 12 tubes per lpd Rs.1000/- per tube

For FPC based systems,
System capacity in lpd Collector area(in sq.m) Upper cost limit
---------------------------------------------------------------------------------------------------------
50 - -
75 - -
100 2 18000
200 4 35000
250 - -
300 6 50000
400 8 65000
500 10 80000
600 to 2000 2 sq.m.per 100 lpd 14500 per collector
2100 & above 2 sq.m.per lpd 12000 per collector

Where ETC - Evacuated Tube Collector
FPC - Flat Plate Collector
===============================================================
* Solar water heaters made compulsory in Surat

Surat could well become the first city in India to make solar water heating in all buildings, residential and commercial, mandatory.
Earlier, this year, the Union urban development ministry had made it mandatory that civic bodies of all 58 cities identified to be made "solar cities" change their construction bylaws to make solar energy compulsory for water heating systems.
The Surat Municipal Corporation (SMC) will make the necessary changes in the bylaws of construction within a month. There are 10.2 lakh houses and nearly 65,000 commercial buildings in the city, which will have to switch over to solar water heating.
"We are ready with draft master plan with a detailed mechanism for solar water heating," said Jatin Shah, city engineer SMC.
However, solar water heating is just one of the steps being taken to make Surat a 'solar city'. The civic body plans to undertake photovoltaic roof top programme, installing solar panels atop all its vital installations and replacing regular street lights with CFLs and tube lights with T5 lights.
"We are aiming to bring down the conventional energy usage by at 10-15 per cent in the next two years," he added. In the next five years, it aims to use at least 30 per cent solar power in place of electricity.
SMC has also scheduled a meeting with New Delhi-based World Institute of Sustainable energy (WISE), which was appointed as consultant in advisory capacity by the Centre, to chalk out the implementation plan for solar water heating systems.
Dr Omkar Jani, principal research scientist at Gujarat Energy Research and Management Institute (GERMI ) said, "We will replicate the Gandhinagar's solar city model in Surat too."
========================================================================================================================================================================================

Solar water heaters : Financing is the key : USA business case study
Solar water heating is stunningly simple. Rooftop solar collectors capture the sun's heat and pipe it into a running loop of water that flows throughout the building. When solar energy isn't available, the building reverts back to its existing water heating system.
Hotels, hospitals and other buildings that heat large amounts of water can frequently reduce their energy bills by installing solar water heating technology, especially those buildings that primarily rely on electricity to heat water.
"In other parts of the world, solar water heating is very common," said Axelrod. "It has not attracted a lot of attention in the United States for a couple of reasons."
Those reasons were apparently not very good. If they were, Skyline would not have already installed dozens of solar water heating systems in WashingtonD.C. and California and established a pipeline of projects to install many more in the future.
Skyline describes its commercial-scale solar water heating systems like so:
Skyline Innovations uses a closed-loop, double-walled configuration, meaning that . . . a separate loop flows up into the rooftop array, where it is heated in the solar collector before flowing back to the Skyline tank, which heats the municipal water coming into your existing water heater . . . the Skyline system ensures you receive hot water when you need it, even after a week-long solar eclipse (or perhaps a series of cloudy days).
Unlike first generation clean energy start-ups, Skyline is based more on an innovative business model than an innovative technology. Other than a patent-pending software technology, Skyline's value proposition hinges primarily on an alternative solar financing solution, which provides customers with a fixed discount on current and future utility rates.
Unlike conventional solar financing structures, Skyline does not charge customers a price per unit of energy provided or impose escalating fees. Rather, by providing a fixed discount on the building owner's utility rate for water heating, Skyline eliminates the customer's financial risk resulting from utility rate fluctuation. Per a recent press release: "Skyline guarantees customers' savings by providing a fixed discount to their utility rates for water heating. This complete customer care finances, installs, monitors and maintains clean, reliable solar water heating systems at no upfront cost."
Axelrod is not the only one willing to bet on this business model.
In May, WGL Holdings, a Washington D.C.-based parent company of a regulated gas utility and unregulated energy and engineering businesses, sealed the deal on an $30 million project financing arrangement with Skyline. source 21/6/12
* Players bet big on solar water heater business
With India facing electricity shortage coupled with the ministry of new and renewable energy promoting the use of solar energy devices with a 30% subsidy on solar products, water heater companies like Racold Thermo expect solar water heaters to become big growth drivers over the next few years.
"In the last two years, the market for solar water heaters has grown 15% year on year," Mathew Job, managing director, Racold Thermo said. The water heater market in India is pegged at Rs 1,200 crore, with electric heaters dominating the category accounting for half of the market and solar heaters a close second at Rs 400 crore. Several state governments have made it mandatory to use of solar water heaters, driving heater sales.
14 Comments