Solar Refrigerators in India, Types, Manufacturers, Technical specifications, Solar refrigerators DIY, price of solar refrigerators, cost of solar refrigerators. solar refrigerator brands india,
TABLE OF CONTENTS
1) LATEST NEWS AND VIEWS
2) COMPONENTS OF A SOLAR REFRIGERATOR
3) TYPES OF SOLAR REFRIGERATOR
4) SOLAR REFRIGERATOR DIY
5) COST OF A SOLAR REFRIGERATOR
6) SUBSIDIES AND INCENTIVES ON SOLAR REFRIGERATORS
7) BE BTECH PROJECTS ON SOLAR RERIGERATORS
8) RESEARCH ON SOLAR RERIGERATORS
9) SOLAR REFRIGERATOR BUSINESS OPPORTUNITIES
10) GOVERNMENT REGULATIONS ON SOLAR REFRIGERATORS
---
LATEST NEWS AND VIEWS
*SOLAR FRIDGE CAN SAVE LIVES IN VILLAGES??
This should be used in indian villages, to improve medical facilities
Imagine life without a refrigerator. It's such an accepted norm for us, but for a large portion of the world the ability to keep anything fresh for days at a time is beyond reach.
The International Energy Agency and World Bank report that 1.2 billion people around the world live off-grid, where the only likely source of electricity is from diesel-powered generators that are dirty, unreliable and increasingly expensive to run.more..
* At refrigerator connection in solar systems, in 95 % of cases, there is a problem of compatibility of appliances. source
* Solar Refrigerator : NASA Commercial Innovation of the Year
The solar refrigeration technology, which has resulted in three patents, was originally intended to cool habitats in space. However, co-developers Michael Ewert and David Bergeron, who worked on the NASA Advanced Thermal Team acknowledged the need for a comparable solar refrigerator that could operate in conjunction with the simple solar lighting systems already in place on Earth. Working together they modified the lunar "solar photovoltaic heat pump" device to produce a refrigerator with a vapor compression, battery-free cooling system that converts electricity from solar photovoltaic panels into thermal energy that is stored internally using low-cost phase-change materials. Now licensed to SunDanzer Refrigeration Inc, the proven system eliminates reliance on an electric grid, requires no batteries, and stores thermal energy for efficient use when sunlight is absent. Designed to work just about anywhere in the world, the current direct-drive solar refrigerator is a chest-type cabinet with a 105-liter internal volume, a lockable top-opening door, a corrosion-resistant coated steel exterior, and a low-frost system.
Such a scalable, energy-efficient resource can be an incredible asset where people don't yet have refrigeration, including remote automated weather stations, forest stations, cabins, vacation houses, eco-friendly resorts, farms, street vendor carts, remote medical centers, transportation vehicles and underdeveloped areas.
For example, in a recent exciting development, SunDanzer has developed and is marketing one of the first battery-free solar-powered refrigerators suitable for safely storing vaccines. This unit received World Health Organization precertification in November 2011. Now those "without access to electricity that is essential for storage of vaccines and medicine"…can…"greatly reduce the cost and increase the availability of vaccines delivered to the poorest, neediest people in remote regions" says Jim Airola, director of business development at SunDanzer. And according to Michael Ewert, this is just the beginning. Ewert says "The NASA battery-free solar technology could be used to cool milk, produce or other consumer products in under-developed regions around the world, thus creating economic opportunities and improving lives on Earth."
Want More Information?
This technology is part of NASA's Innovative Partnerships Program, which seeks to transfer technology into and out of NASA to benefit the space program and U.S. industry. NASA invites companies to inquire about the licensing possibilities for the Solar-Powered Refrigeration Technology (MSC-22970). For information about this and other technology licensing opportunities, contact:
Strategic Opportunities and Partnerships Development Office
NASA's Johnson Space Center
http://technology.jsc.nasa.gov
*
Wind-up refrigerator is serious answer to drug storage

USA: A wind-up vaccine refrigerator has been named the US Winner of the James Dyson Award.

The innovative product was designed by Rogers Feng, a student of Northwestern University in Chicago, who recognised the challenge of storing drugs and vaccines in developing countries where power is unavailable or, at best, unreliable.

Most need to be kept at a constant temperature between 2 and 8 deg C and under current methods there can be a high level of waste. Even if the regional hospital has refrigeration equipment, the vaccines still need to be distributed to individual villages. Vaccine distribution workers typically use ice boxes and are faced with two problems as a result. First, they must race against the melting of the ice. Second, accidentally packing too high an ice-to-vaccine ratio would freeze the vaccines and destroy them.

These challenges make for some pretty tough odds. In fact, the World Health Organization reports that vaccine wastage rates may be as high as 50% in some cases. Both lives and money are being lost.

Rogers Feng's vaccine refrigerator is operated by using a hand crank for about 5 minutes to power the device. It can then run for about 15 minutes before needing to crank it again. The crank powers a small DC generator that charges a 9V rechargeable Li-ion battery. In turn, the battery powers Peltier units which carry out thermoelectric cooling.

The design is said to have three main advantages. First, the circuitry prevents sudden drops in ambient temperature from causing freezing, which would destroy vaccines, with an active feedback loop. This is a safety feature that some developing world-oriented refrigerators lack. Secondly, there are no refrigerant fluids that could potentially leak. Lastly, the design is inexpensive; with an estimated unit cost of $50 (a solar-based equivalent would cost several hundred dollars). source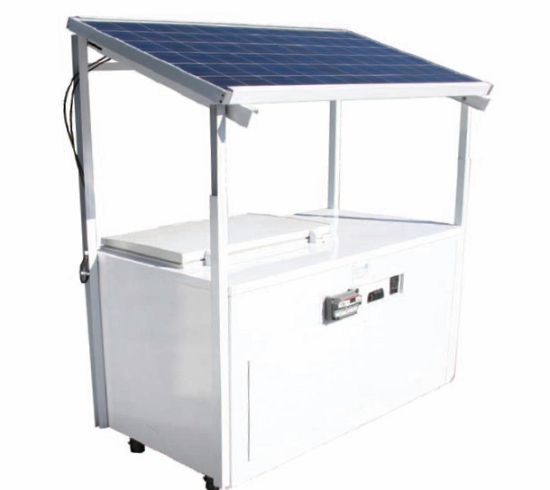 *Solar refrigerators were developed in developing countries where there's always shortage of power supply and excess of poverty. Solar refrigerators work on the evaporative cooling system. They just need water and some sun light for their functioning.
By harnessing solar energy, these refrigerators can keep perishable goods such as meat and dairy cool in hot climates. They are also used to keep vaccines at their appropriate temperature to avoid spoilage.
The portable devices can be constructed with simple components and are perfect for areas of the developing world where electricity is unreliable or non-existent. Other solar-powered refrigerators were already being employed in areas of Africa which vary in size and technology, as well as their impacts on the environment. The biggest design challenge is the intermittency of sunshine (only several hours per day) and the unreliability (sometimes cloudy for days). Either batteries (electric refrigerators) or phase-change material is added to provide constant refrigeration.
Types of Solar refrigerators:
Solar refrigerators can be classified into two types: Solar refrigerators that use batteries and ones that don't.
A solar fridge that uses batteries uses a combination of solar panels and lead batteries. The batteries serve as back up overnight and on sunless days. These fridges have many disadvantages. These are expensive; the batteries are heavy and deteriorate quickly in hot climates. The batteries also need to be disposed of properly otherwise they leak and cause lead pollution.
Solar power fridges that don't require batteries can be made from basic household materials. These are modern and better suited to developing countries. Although these fridges are technically solar powered, they don't use solar panels for power. They rely on conduction, convection and evaporation and operates at an even 6°Celsius.
The refrigerator employs a combination of heat conduction and convection. It requires no electricity and can be made from commonly available materials such as cardboard, sand and recycled metal. The device is composed of two cylinders. The inner metal cylinder is fitted inside the outer cylinder. The outer cylinder can be made from whatever the person has access to including wood or plastic. The space between inner and outer cylinder is filled with organic material which can be sand, wool or soil that is then saturated with water. As heat from the sun evaporates the water, the inner chamber cools reducing and maintaining the temperature at 43 °F (6 °C).
Manufacturers of solar refrigerators in India:
Tata BP Solar: Tata BP Solar manufactures various solar photovoltaic and solar thermal products. The Solar Vaccine Refrigerator maintains a constant temperature suitable for vaccine storage in rural health clinics. The photovoltaic modules convert sunlight directly into electricity, powering the compressor of the vaccine refrigerator. Rechargeable batteries are used to store electric energy. The charge controller regulates the flow of electricity to protect the batteries from overcharging and over-discharging.
40 litres gross refrigerator volume, superior material construction, digital thermometer, LED battery low indicator, CFC free, energy efficiency, meets WHO specification, autonomy of 5 days are features of solar refrigerator from Tata BP Solar.
http://www.tatabpsolar.com/index.php
Easy Solar Industries: They manufacture solar photovoltaic products, solar thermal products, LED products etc.


The Easy Solar PF166 is the most energy saving DC fridge and freezer combination for all DC and solar applications. This can also be used for medical clinics and medicine cooling. The device can be used either as a fridge or a freezer. The user can also fully program the unit and adjust the temperature inside the cooling compartment individually.


Due to the latest A cooling technology in combination with optimized electronic regulation and compressor speed control Easy Solar provides optimal use of energy. This leads to cost savings as the size of the necessary PV off-grid system can be reduced in comparison to other DC fridges.
http://www.easysolarindustries.com/
Topsun Energy Ltd: Topsun Energy Ltd. is is engaged in the manufacture and supply of optimum quality Solar Products in the country. They manufacture solar home light systems, solar refrigerators, solar water pumps, solar telecom plate etc.
Surya Kiran Technologies Inc: They manufacture solar pumps, solar refrigerators, solar lights, solar hybrid inverters, solar water heating systems etc. The Surya Kiran cool solar PF166 is the most energy saving DC fridge and freezer combination for all Dc and solar applications, also for medical clinic and medicine cooling.
http://suryakirantech.net/index.html
International Solar refrigerator manufacturers:
Promethean Power Systems: Promethean power systems has developed a solar-powered refrigeration system for commercial cold-storage applications in off-grid and partially electrified areas of developing countries. Promethean's first product is a hybrid solar & grid powered refrigeration system for raw milk supply networks that operate in rural areas where grid power is unreliable. This complete, rural refrigeration system is designed for mission critical refrigeration applications that must operate 24 hours a day, 365 days a year
http://www.coolectrica.com/index.php
Sundanzer: Sundanzer is the manufacturer of DC-powered solar refrigerators and freezers. These systems use smaller photovoltaic systems. Sundanzer units feature 4.33" (110mm) of polyurethane insulation and coated steel cabinets. The brushless DC motor compressor operates on 12 or 24V DC. A patented low-frost system reduces frost build - up for low maintenance.
http://sundanzer.com/Home.html
Technical Specifications of Solar Refrigerators:
Sample technical specifications of solar refrigerators:
Technical specifications of easy solar PF166:
System Voltage

12V 24V

Energy Efficiency Class

A

Cooling method

Compressor

Energy optimized speed control

Yes

Full digital & electronic control system

Yes

Configurable

Yes

Usable Cooling Volume

166 litres 5,9ft3

Input Voltage Range

10V to 17V 17V to 31.5V

Deep discharge protection

10.4V 22.8V

Automatic switch-on threshold

11.7V 24.2V

Maximum power consumption

40-100W

Recommended fuse

15A 7.5A

Refrigerator or freezer function

Adjustable

Adjustable internal temperature

2 0C - 35.6 0F - 12 0C - 53.6 0F

Refrigerator temperature range

-20 0C - -4 0F - -10 0C - 14 0F

Freezer temperature range

10 0C - 50 0F - 43 0C - 109 0F

Display

digital temperature display in lid

Hanging baskets

2

Freezer trays

3

Lock

Yes

Cold battery

1

Celsius/Fahrenheit temperature display

Adjustable

Display brightness

Adjustable

Automatic energy-saving mode

Yes

WHO certificate

No

External dimensions H X W X D

91.7 X 87.2 X 70.9 cm
36.1 X 34.33 X 27.91 inches

weight

61 kg 134 lbs
Wiring diagram of a solar refrigerator:
Cost of solar refrigerator:
Price of solar refrigerator from Surya Kiran solar:
Surya Kiran Cool Solar PF 166 = Rs 1, 50,000/-per unit Basic
Surya Kiran Cool Solar AC235 = Rs 5, 70,000/-per 2Hp System Basic
http://www.suryakirantech.net/files/SOLAR REFRIGERATOR.pdf
Price of Sundanzer Solar Refrigerator:
Model DCR165 (small) Refrigerator $1,149.00
Model DCR225 (large) Refrigerator $1,249.00
Model DCF165 (small) Freezer $1,149.00
Model DCF225 (large) Freezer $1,249.00
Specifications & Cost of Solar Refrigerator from Sundanzer:
SunDanzer solar refrigerator Specifications & Cost:
Specifications & Cost of DCR50 & DCF50:
Voltage

10-31VDC

DCR50 Refrigerator

114 Watt-hrs/day @ 32C

9.6 Amp-hrs/day @ 12V, 32C

DCF50 Freezer

280 Watt-hrs/day @ 32C

24.5 Amp-hrs/day @ 12V, 32C

Gross Capacity

50L / 1.8 cubic feet

Exterior Dimensions (WxDxH)

26.5 x 23 x 30.5 in

Shipping Dimensions (WxDxH)

27.5 x 24.5 x 36.5 in

Weight

75 lbs including packaging, ships via LTL truck

Cost

MSRP $699
Specifications & Cost of 165/225 models:
Models DCR 165 & DCF 165
Models DCR 225 & DCF 225
Voltage

10.4-17V DC (12V)

22.8-31.5V DC (24V)

Power (Typical-max)

40-80W

Fuse Size

15A@ 12V 7.5A@24V

Ambient T Range

10 to 430C

Refrigerator T Range

-1 to 90C

Freezer T range

-18 to -50C

165 exterior dimension

93.5W x 66.5D x 87.6H cm

36.8W x 26.2D x 34.5H in

225 exterior dimension

119W x 66.5D x 87.6H cm

46.9W x 26.2D x 34.5H in

Cost of DCR 165 & DCF 165

MSRP $1189

Cost of DCR 225 & DCF 225

MSRP $1349
Specifications & Cost of DCRF 134:
Voltage

10-31VDC

Array Size

300 Watts

Average energy use at 12V DC

700F – 460Whrs/day, 38AH/day

900F – 720Whrs/day, 60AH/day

1100F – 1050Whrs/day, 88AH/day

Gross capacity

134L / 4.7 cubic feet

Refrigerator

115 L / 4 cubic feet

Freezer

19 L / 0.7 cubic feet

Exterior Dimensions (WxDxH)

23.5 x 26 x 33in

Shipping Dimensions (WxDxH)

27.5 x 24.5 x 36.5 in

Weight

75 lbs including packaging, ships via LTL truck

Cost

MSRP $1149
Specifications & Cost of DDR 165:
Input voltage

10-45 VDC

Panel voltage

12 Volt nominal

Power (Typical-max)

40 – 80 W

Fuse size

15A

Ambient T Range

10 to 430C

Refrigerator T Range

-1 to 90C

165 exterior dimension

93.5 W x 66.5 D x 87.6H cm

36.8 W x 26.2D x 34.5H in

Cost

MSRP $1199
Function:
To store essential items such as medicine and vaccines at low temperature in stand alone mode.
A small capacity top opening refrigerator powered with SPV panel along with the battery bank, up to 3 days solar autonomy.
Features:

| | |
| --- | --- |
| | DC Compressor – Danfoss make |
| | Compressor Load : 60 W running. |
| | 500~600W/day – 10 hours per day operation. |
| | System volt : 12 / 24 V DC |
| | Penal : 24V/180 Wp |
| | Battery : 24V/130 Ah |
| | CCU : 24V/10A |
| | 80/100/150 liter |
| | Top opening. |
| | Usable size : 3'X 2' X 2' |
| | : 2 to 3 days |
ADVANTAGES:

| | |
| --- | --- |
| | 12v or 24 DC with low voltage disconnect. |
| | Rugged scratch resistance galvanized steel/fiber exterior |
| | Lockable lid with interior light. |
| | Easy to clean Interior. |
| | Low-frost system. |
| | Automatic control with adjustable thermostat. |
| | Energy Efficient Refrigerator. |
I discussed the importance of using the most energy-efficient appliances you can buy for any remote cabin or off-grid solar application. I also mentioned there are several refrigerators and freezers now available that can be powered directly from a 12-volt DC battery. In this issue, I will review several different brands and models of refrigerators, freezers, and combination refrigerator-freezers that will make any rural retreat more like home.
Yes, you can drag an ice chest back and forth on your weekend visits, which is still the most economical way to have ice and refrigerated fresh foods. But for extended or long-term stays, a portable cooler cannot keep ice much longer than a three-day weekend. If your retreat already includes a large propane storage tank to power a cook stove and water heater, then by all means shop for a propane-powered freezer or refrigerator. However, many remote locations are difficult, if not impossible, to access by a propane refueling truck, and electric utility lines may not reach the area, either. For these applications, there are several quality low-voltage refrigerators and freezers that will operate directly from a 12-volt DC battery.
Sizes available

SunDanzer Model DCF225
(Photo courtesy of SunDanzer Corp.)
Some manufacturers offer units up to 19 cubic feet, which would be equal in capacity to the majority of conventional 120-volt AC refrigerator/freezers you find in most homes. However, I am limiting this review to models in the 4 to 12 cubic feet capacity range, since I assume the refrigeration needs and kitchen wall space are limited in a second home or remote cabin.
For size comparison, 4 cubic feet is slightly larger than a very large portable ice chest, and 12 cubic feet is in the size range of an apartment-size refrigerator. Many of the smaller 12-volt DC models were actually developed for the boating and over-the-road trucking applications. Since both applications have deep-cycle 12-volt DC batteries that are constantly being recharged by diesel engines, energy efficiency is not a primary goal in their design. To minimize space requirements, many of these mobile refrigerators will have thin walls, which reduces the insulation. This type refrigerator has a higher heat gain, which in turn requires more battery power.
If your cabin includes a generator that will be operating every few days, then a less expensive and less efficient model may be your best choice, as regular operation of the generator should keep the battery recharged. However, if you will not have a generator, or only plan to use a generator during an occasional week of bad weather, then keeping the battery recharged using the sun may be your best solution.
For solar charging only, you will want a refrigerator having a very efficient cooling system and very thick wall insulation. Many models I have reviewed have walls with up to four inches of insulation, which can keep food cold for days without power.
Refrigeration system
Many dual-fuel refrigerators are actually modern versions of the old gas absorption refrigerators and use a small gas flame to heat refrigerant gas, which generates the refrigeration process. This means that a unit having both a small propane burner and an electric heating element can separately generate the refrigeration process. Although an absorption-cycle cooling system is fairly simple and does not require any electric motor-driven compressors or a pump, using electrical power to heat anything requires lots of energy. Using an electric heater for generating the refrigeration cycle will require a much larger battery and solar array than the same size refrigerator with a motor-driven compressor.
Another low-cost 12-volt DC refrigerator design uses a solid-state electronic device mounted on a finned-metal heat sink. One side of the heat sink is exposed to the air outside the refrigerated compartment, and the other side is exposed to the inside. These are very low-cost and can be found at almost every truck stop. When connected to a 12-volt DC power source (usually a cigarette lighter outlet), the interior side of the heat sink gets cold while the exterior side gets hot. By reversing the plug, the effect reverses and the interior side heats. In addition to requiring lots of battery power to operate, this device rarely can produce temperatures more than 30° F colder than the surroundings, so an 80° interior truck cab may only result in a 50° refrigerator temperature—not very useful until colder weather when it may be able to reach lower temperatures.

Dometic "Tundra" Model TJ85 Refrigerator/Freezer
(Photo courtesy of Dometic Corp.)
I installed one of these units in my truck that has a 100-watt solar module on the roof, and it ran down the battery any day the engine was not running. I do not recommend using any refrigerator with this type of cooling system for any off-grid application.
One of the most energy-efficient low-voltage refrigerator or freezer designs available uses a brushless 12/24 volt DC sealed motor-driven refrigerant compressor made by Danfoss. When matched up with a well-insulated cabinet, this low-energy compressor usually only operates five to six hours per day to maintain below-zero freezer temperatures.
Since many of the high-efficiency 12 and 24 volt DC refrigerators reviewed in this article use the same Danfoss compressor, their main marketing differences will be cubic feet capacity, thermal insulation thickness, and construction quality. Usually the most energy-efficient models are top-load models, but these are not available in two-door. You can buy a top-load super-efficient freezer or refrigerator, but not both in the same cabinet. Upright door models are usually less efficient than top-load models, but many upright brands offer two-door units that are more useful when you need to keep ice frozen and drinks cold at the same time.
Model comparisons
Since all models reviewed are similar in size, a major cost difference is related to the amp-hour per-day drain on the battery. As stated earlier, if generator or utility grid power is available to keep the battery fully charged, I recommend a lower-cost marine or RV model. However, if a solar panel is the primary power source for recharging the battery, then I strongly recommend a model having a very low amp-hour requirement, and in most cases these will be the most expensive.
The following table provides a basic comparison between several of the most popular 12-volt DC refrigerators, freezers, and refrigerator/freezers currently available. Be sure to read the footnotes as some models were designed for mobile applications requiring built-in cabinetry, some models are top-load only, and some models are short and will require mounting on some type of cabinet base to raise to eye level.
Solar requirements
Unless you live in the very cold northern latitudes having short days and low sun angles, most parts of the United States will average 4 to 4.5 hours of direct sun per day during the winter months and 5 to 6 hours per day during the summer months. Of course, some milder geographic locations may also have lots of rainfall and cloud cover, which reduce these average hourly values.
As an example, if you select a refrigerator or freezer that requires 40 amp-hours per day to operate, this means you will need a solar array that can provide at least 10 amps output (40 amp-hour/4 hours) during the winter, and 6.6 amps output (40 amp-hour/6 hours) during the summer. If your remote cabin or retreat will be used year-round, then you may want to use the smaller sun-hour value. Since the ambient air temperatures are cooler in the winter than summer, all refrigerators and freezers will require less energy to operate during colder months, so a more accurate winter calculation would use the amp-hour load given for lower ambient temperatures.

Table 1
Example:
SunDanzer 5.8 cubic-foot freezer (refer to Table 1)
22.6 amp-hour/day load at 70° F (winter)
36.7 amp-hour/day load at 90° F (summer)
Solar Module Size:
Winter: (22.6 amp-hour)/(4 hours/day sun) = 5.65 amps
Summer: (36.7 amp-hour)/(6 hours/day sun) = 6.12 amps
From the example, we can see how the freezer's higher cooling efficiency during lower ambient air temperatures can often offset having fewer sun-hours during the winter months.
Finally, solar modules are normally marketed by their nominal nameplate "watts" value. The actual amp output will vary throughout the day as solar intensity changes. If the module's amp output data is not available, use 16 volts as an average output voltage to convert a solar module's "watts" rating to "amps." Also remember the nameplate rating is "peak" output which is hard to achieve unless your site is in the dry desert.
For example, a 100 watt solar modular will provide approximately 6.25 amps (100 watts/16-volts) during each full hour of peak sun, so using the above SunDanzer freezer example; we will require one 100 watt solar module. You will always have some days with less than average hours of peak sun, or even no sun, so adding a second solar module will allow putting more amp-hours of charge into the battery than will be consumed that day. Having extra solar amp-hours going into the battery on a sunny day will carry you through those days with little or no sun.
The wiring diagram shows how a 12-volt DC refrigerator or freezer is wired to a battery and how this battery is wired to a solar module using a solar charge controller. I have also shown the added wiring required to connect a 120-volt AC battery charger that can be powered from a back-up generator or grid-connected wall outlet.
Other issues
In an attempt to provide full disclosure, I purchased both Sun Frost RF-16 and RF-19 refrigerators when we built our solar home in 1994. Both 2-door models include a freezer section with its own separate compressor, which allows each section to operate independently with its own temperature set point. We also purchased a top-load SunDanzer DCF225 freezer in 2003 for added longer-term freezer capacity.

Norcold Model DE-61 Refrigerator/Freezer
(Photo courtesy of Norcold Corp.)
I am convinced the Sun Frost models are still the most energy-efficient models you can buy, but over the years we have had to replace door seals, door latches, or shelf brackets every few years. These units also build up ice fairly thick on the back walls during humid conditions. However, their smooth interior walls are easy to manually defrost by just turning them off, removing the food, and blocking the doors open for several hours. This causes the ice to fall off in large sheets that are easy to remove.
I must admit I thought any top-load refrigerator or freezer would be very difficult to use, but the SunDanzer top-load freezer includes several hanging baskets that slide from side-to-side and lift out, which makes it fairly easy to access items near the bottom. We also have very little ice buildup in our SunDanzer freezer. This may be due to its unique internal "air-bladder" design that reduces the amount of humid room air that is drawn in each time the door is opened and closed.
I have not personally used the Norcold and Tundra models, as these are more common for marine and over-the-road commercial truck applications, but they are similar to the refrigerator in our RV. Our experience with this type of combination refrigerator/freezer is they tend to have thinner walls to reduce wall space and less insulation, which increases their energy requirements. However, being designed for mobile applications, these units tend to be fairly durable. We also found that many single-door RV and marine-style refrigerators have a very small freezer compartment located at the top of the interior, which does not freeze foods as solid as separate-door freezers.
Equipment selection
If your primary source to power a 12-volt DC refrigerator or freezer will be a solar-charged battery, then you may find the lowest overall system cost will actually include one of the higher-priced, higher-efficiency refrigerators or freezers. Since a typical solar module in this 100-watt range will cost in excess of $950 each, spending a few hundred dollars more for a more efficient refrigerator may allow you to get by with only one solar module, saving far more in solar system costs, not to mention being able to use a smaller battery.

Solar Power Model SPR-10 Refrigerator/Freezer
(Photo courtesy of Polar Power Inc.)
Almost all refrigerator and freezer models reviewed in this article were priced more than $1,000, with the Tundra TJ85 at $1,600, the Norcold DE-61T at $1,200, the SunDanzer DCF225 at $1,100, the Sun Frost RF-12 at $2,100, and the Sun Frost RF-16 at a whopping $2,800. You may be able to find slightly lower prices if you shop around, but all are quality-built low-energy appliances and far exceed the energy performance of lower-cost models you find locally. Since these models are fairly large and some weigh in excess of 300 pounds, they must be shipped to you by truck freight, so expect another $200 for crating and shipping costs.
Other components
The size and type of battery you select will determine how long the refrigerator or freezer can continue to operate without being recharged. Do not use automotive-type batteries, as these have very thin plates and will not last longer than a few months if subjected to a daily charge-discharge cycling.
Using the Sun Frost RF12 as an example with a summer energy usage of 39.0 amp-hours per day, and assuming you do not want to discharge the battery more than 50%, you would need a battery that has a 312 amp-hour rating to store four days of operating time: (39 amp-hours/day)(4 days)(1/50%) = 312 amp-hours.
This equals the storage capacity of a 12-volt size 8G4D diesel truck battery or two 6-volt size T105 golf cart batteries wired together to make 12 volts. A deep-cycle RV/marine battery will also stand up to this kind of service, but its smaller rating of 182 amp-hours will only provide about two days of back-up operation without recharging.
You can expect to pay more than $100 for a quality deep-discharge battery. When shopping for the battery charger, make sure it has an automatic state-of-charge feature that reduces or completely shuts off the charging current when the battery is full. Otherwise, leaving a battery charger connected full-time to any battery will quickly "boil" it dry if the charging current does not lower as the battery's charge level goes up. Grainger sells a Model #4KC95 Dayton dual 12/24-volt battery charger for $86 that is perfect for this application. Its 10-amp charging output automatically adjusts down to 0 amps as the battery reaches full charge, and it is designed for continuous maintaining of a deep-discharge battery.
I like to use a maximum power-point tracking (MPPT) solar charge controller, which will "squeeze" more charge out of any solar module. The charge controller's size depends on the size of your solar array. I also like the charge controllers that include a low-voltage disconnect feature and load terminals. This makes wiring much easier and allows the controller to disconnect the load from the battery if the battery-charge level drops below a safe level.

Wiring diagram
Having a low-voltage cut-off on the solar charge controller will make your battery last much longer, and hopefully, there will be enough cold "mass" inside the refrigerator or freezer to carry through a period of limited or no solar charging when the battery is too low. The low-voltage cut-off will also keep your refrigeration compressor from the damaging effects of rapid cycling on and off when the battery voltage is too low to allow it to actually start.
I really like the Morningstar line of solar charge controllers for all small solar arrays. Their 12-volt Sunsaver Model #SS-10L at 10 amp and Model #SS-20L at 20 amp are a good choice for this application. Use the 20-amp controller for solar arrays in the larger 150 to 200 watt size range, and the 10-amp controller for smaller array sizes. They both include the extra terminals shown in the wiring diagram to connect the refrigerator, which provides the low-voltage load disconnect.
Summary
Any of the low-voltage refrigerators and freezers reviewed should meet your needs for this type of application and are available from many different sources. For most brands I am providing only contact information for the manufacturer, who can direct you to a dealer in your area.
Although this article was intended for remote cabins not served by power lines, I have also installed these 12-volt DC freezers in conventional homes located in areas subject to frequent power outages from hurricanes. For many of these applications, a grid-connected battery charger is used to constantly make up the battery drain of a 12-volt DC freezer when utility power is available, which means the battery is never discharged unless there is a power outage.
I have one client who keeps their solar module in the garage, which is only taken outside and set up after a hurricane has destroyed the local power lines, which shuts off their kitchen refrigerator for several weeks. For these grid-connected applications, the 12-volt DC refrigerator, battery, and battery charger are usually located in the basement, garage, or utility room, which only becomes the primary refrigerator during these extended power outages.
Solar refrigerators DIY:
In 2009, a British student, Emily Cummins invented a solar refrigerator. The solar refrigerator can be built from household materials. This sustainable fridge works through evaporation and can be used to keep perishable goods such as milk and meet cool for days.
The design consists of two cylinders, one inside the other, with a gap between the inner cylinder and outer cylinder. The inner cylinder is made of solid metal. The space between the inner and outer cylinders is filled with a layer of material that can be soaked with water, such as sand, wool, or dirt. The outer cylinder is made of a solid material such as wood or plastic, with holes drilled in the sides to let the sun's energy reach the wet layer.
As hot sunlight hits the refrigerator, it gradually evaporates the water from the wet middle layer. This causes heat to transfer from the inner cylinder into the wet layer, keeping the inner cylinder and its contents cool. The refrigerator can be "recharged" by simply re-soaking the wet layer.
The Eco-fridge
When most of us think of "solar power," we think of panels of photovoltaic cells. A refrigerator introduced in 2009 by British student Emily Cummins used a far more literal version of solar power.
Cummins' refrigerator uses no photovoltaics, no electricity, no chemical refrigerant and no moving parts to produce a cooling effect. Instead, it uses an evaporative-cooling system based entirely on the sun's heat and some water. It's an ideal setup for poverty-stricken Third World villagers with no electricity and no money to spend on a fancy PV system. It is already being used in South Africa and Namibia. (It could also work for a hard-core environmentalist looking for a guilt-free cold one after a long day at work.)
The fridge is brilliantly simple. It's made of two cylinders, one inside the other. The outer cylinder can be made of almost anything on hand -- cardboard, wood or plastic, typically, with holes in it to allow the greatest possible sun access. The inner cylinder is metal. The space in between the inner and outer cylinders is filled with materials like wool, sand or dirt.
The evaporative-cooling system works like this: You place food or medicine inside the inner metal cylinder and close it up. You then pour fresh water into the area between the cylinders, saturating the organic material, and place the whole setup in the sun. As the sun warms the outer cylinder and heats up the wet organic material, the water evaporates. Just like in a traditional fridge, evaporation removes heat (that's why we sweat -- when the sweat evaporates, we cool down). The organic material is touching the inner cylinder, so this heat transfer pulls heat from the inner cylinder holding the food. The result is a very cold inner chamber.
This process is repeated as the water evaporates fully, so water is continually replenished and the cooling continues. The refrigerator can stay at 43 degrees F (6 degrees C) for several days on a single water infusion
This system has no battery backup, so it relies on a good supply of sunlight. Countries like Namibia, with an average of perhaps 10 hours of sunlight a day in some areas, are ideal candidates for this solar-powered setup
That's always the potential drawback of any solar-powered necessity: Sunlight is seldom guaranteed. In more high-tech PV refrigerators, backups in the form of batteries or generators are common in order to avoid system failure. The low-tech eco-fridge relies entirely on nature to keep things cold.
Solar Powered Refrigerators for Solar-Ready India
Solar is already making waves in the developing world, proving once again how beneficial renewable energy can be for everybody. Developing countries have the awesome opportunity of skipping the smokestack revolution and heading straight into clean, sustainable energy. One of the latest in that vein of innovation is the hybrid diesel-solar powered refrigerator.
Developed by Promethean Power Systems, this stand-alone refrigerator system runs on a combination of diesel fuel and 180 Watt solar panels. While this makes it only partially renewable, as Treehugger so aptly points out, there is nothing preventing biodiesel from entering the picture and making it 100 percent clean. Yet this is a big step. While the only refrigeration option people living off-grid have now are expensive diesel generators, Promethean's hybrid refrigerator would cut operation costs by 66% as it stands now. This is monumental for people who cannot even keep supplies such as milk, fruits, and vegetables fresh long enough to use them.
The refrigerators, which use thermoelectric cooling as opposed to Freon, will be tested in rural India in 2009. Promethean, a Cambridge, Massachusetts-based company, recently received funding to get their innovation off the ground. They say that thermoelectric cooling could supplant vapor-compressor refrigeration but cooling efficiency is low and limits projects o a smaller scale. We'll have to keep an eye on this one! source
BOOKS
PATENTS
1) PORTABLE SOLAR INVERTER PATENT
The utility model relates to a portable solar refrigerator, which comprises a refrigerator body. Solar panels are arranged on the top and two lateral surfaces of the refrigerator body respectively. This will be handy in indian villages An electrical storage device and a temperature regulator are arranged on the back surface of the refrigerator body. A lifting handle is arranged on the refrigerator body

2) SOLAR REFRIGERATOR PATENT
The utility model provides a solar energy refrigerator. A plurality of thermoelectric coolers are installed on the rear side of a box body with an opening and closing door of the refrigerator, an electric fan blowing cold air into the box body is arranged on the front sides of the thermoelectric coolers, a radiator is arranged on the rear sides of the thermoelectric coolers, and the thermoelectric coolers are connected with a temperature controller through a circuit to be provided with a circuit connected with a solar panel.
3)SOLAR AMMONIA CYCLE REFRIGERATOR PATENT
Refrigeration is produced by an intermittent absorption cycle. The cycle is driven by solar radiation, and utilizes NH3 as refrigerant and a liquid, preferably H2O, as absorbent. Solar radiation is collected during the daytime or in generation mode by a Compound Parabolic Collector (2), which reflects the light onto a cylindrical target vessel (1) containing the absorption working pair.
4) MOVABLE REFRIGERATOR USING A SOLAR CELL PANEL CHARGED WITH SOLAR ENERGY AND ADJUSTABLE IN DIFFERENT ANGLES PATENT

This invention provides a mobile solar refrigerator which includes a main body, a energy storage device and a mobile frame. The main body and the energy storage device are mounted in the base of the mobile frame

VIDEOS
FOR THE MIDDLE CLASS HOMES IN INDIA:
FOR COMMERCIAL PURPOSES IN INDIA
6 Comments